Wednesday, January 31, 2007
@


Time: 8pm CST
TV: Lincoln Financial Sports
PlaceMaravich Assembly Center in Baton Rouge, LA


This is the SEC West version of Survivor. Two really bad teams, at the moment, fighting to stay in the conference race. Both had high expectations and are failing to live up to them. Both were darkhorse final four contenders...but now both have four league losses in six games.

Sounds funny, but it's true. Arkansas and Auburn both have better records...granted, it's only by half a game, but they're still leading the division.

So, tonight's game is all about who can put it back together quicker. LSU has had some ridiculous trouble shooting the basketball, but that is likely to continue for two reasons: 1) They have no real shooters, and 2) We will be playing Tubbs and Hollinger more, so their guards won't have nearly as many open looks.

I still don't feel like we can put it together on the road yet. Sadly, it looks like a 2-5 start to SEC play. Luckily we've got South Carolina and Mississippi State at home after this one, but then we play at Ole Miss and then at Florida.

As weak as we've been in the post lately, I look for Davis to have a MONSTER game against Hendrix and Davidson. He'll spark the team and lead them to a much needed victory. Bama will probably have to wait until Saturday against South Carolina to taste victory again.

Prediction: LSU 78 Alabama 63

P.S. Please prove me wrong...

Nothing big this morning at all. There's a great article about Sidell Corley in the Birmingham News. Alabama and Tennessee will likely be going head to head on him and Maze, it appears.

Rumors are running rampant that McKnight will not be visiting Tuscaloosa this weekend because he has already chosen LSU. Again...just rumors.

Cecil chimes in about how Bama and LSU are both trying to stay out of the SEC cellar. Both teams are struggling right now, with LSU losing their last three, and Alabama losing three of their last four (the only win being the squeaker at home against Georgia). Both coaches say their teams have done well defensively (bullshit, imo) but have stunk it up offensively. Why not tell the truth and say that the team just sucks on both ends of the floor right now?

Oh well.

Tuesday, January 30, 2007 As much as I hate the dramatic parts of this show, the football parts are incredibly awesome.

For those that actually paid attention to Hoover's season...they lost to Prattville in the state championship game. I just ruined the ending for you. But watching Propst coach this team is very entertaining.

It's on that demon channel - MTV.

Boooyah. 1pm on April 21st. I'm sure the autographs, etc, will be at Coleman early that morning. This past year they were at 8:30am. I've already got my hotel room booked.

Norcross wide receiver, Darius Hanks has committed to Alabama. He's 6'1", 164 lbs and is considered a "sleeper" by some recruiting analysts. He sat out most of his Junior year with a broken leg.

Mobile safety, Michael McNeil, will be announcing his intentions at a press conference today. The Mobile Register is saying the presser is at 11am.


The Advocate in Baton Rouge has a great story about how Bama and LSU will be playing for survival more than the top spot in the West. This game should be better than 'Survivor' because the loser drops to 2-5 in the West. The winner takes a part of the Western division lead.

The Huntsville Times is suggesting that Mykal Riley may not start the LSU game. Surprise surprise. I want to see Steele on the bench as well. I'll take Hollinger and Tubbs in the front court any day of the week.

After pointing out everything that's wrong with the Crimson Tide basketball team, the Times Daily also points out that "all of Alabama's goals are still within reach. But the clock is definitely ticking."

Mark Edwards, of the Decatur Daily, states the obvious: Gottfried will rally UA eventually. As always, Mark Gottfried finds some kind of fire to pull his teams together at some point in the season. Everyone should be glad that Bama is off to a bad start, because I'm sure that by the middle of February and on into March, this team will be playing damn good basketball. Even though I haven't seen anything to justify that statement as of yet.

Monday, January 29, 2007
Brandon Hollinger straight up called out his teammates - the Alabama STARTERS - in today's Montgomery Advertiser.

"We don't play defense. Teams just go in and score on us."

"Our team is just so relaxed on defense they're not playing defense the way they're supposed to. I just come in and try my hardest to get them going on defense."

The latest idea is to bring Hollinger in and let him play in Riley's spot. I say bring him and put him at Steele's spot. Yes, Riley is bad...but he's not hobbled right now. Steele is giving it everything he's got, but he can't stop my grandmother right now.

"You've always got a sparkplug on your team. On defense, it's effort. You don't even have to know how to play defense to play defense. If you get up on your man and try your hardest, you should be able to play defense. You pressure him, he can throw a bad pass or it's not going to be an easy pass to the post player. It's all about effort."

For the love of God, play this kid. Anyone remember Antoine Pettway?

"I admire him because physically he's not the biggest guy or the strongest guy," power forward Richard Hendrix said, "but more important than his physical size is the size of his heart and how hard he works. When he gets out there on the court, he gives it all he has. The thing I really like about him is whether he's in there a little while to play defense or if he's in there a lot, scoring points and making assists, the only stat that matters to him is that 'W.' We need a lot of people like that. That's what you need in order to be a good team."

No...Hendrix wasn't talking about Antoine. He's talking about Hollinger.



And, seriously...how is this team still ranked in the Top 25? We're at #19 in the AP, and #20 in the Coaches poll this week.



You want to know how lucky Alabama is? Here's the latest SEC West standings.

Arkansas 3-4
Auburn 3-4
Alabama 2-4
LSU 2-4
Mississippi State 2-4
Ole Miss 2-5

So as bad as we are, we still have a chance to turn it around because we're only a half game out of the lead in the West. Of course, we're only a half game out of last place as well...so that just goes to show how bad the Western division is.

Here's my starting lineup for Wednesday night against LSU.

Brandon Hollinger
Justin Tubbs
Demetrius Jemison
Richard Hendrix
Yamene Coleman

That would be my starting five. The other four wouldn't play but maybe 5 to 10 minutes. Maybe. If I was in a good mood. These five players would WANT to win. They would give it everything they've got.

So, LSU lost to Georgia yesterday. That puts us and the Tigers at 2-4 each in the SEC. Which makes Wednesday night's game that much more important. We're still only one game out of 1st place in the West.

Disgusting.

Coach picked up two commitments this weekend - Chris Underwood, a 6'4" 215 lb tight end (will be played at fullback), and four star running back Demetrius Goode from Hargrave.

Noel Devine made a surprise visit to Tuscaloosa yesterday and absolutely loved it, from what I understand. This could be a VERY good thing. We are now at the top of his list.

More this afternoon.

Saturday, January 27, 2007 So, let's take a looksy, shall we?

Richard Hendrix, F 12-17 0-0 4-5 4 7 3 28
Jermareo Davidson, F 3-9 0-2 6-8 2 5 0 12
Demetrius Jemison, F 3-5 0-0 0-0 1 3 4 6
Justin Tubbs, G 2-8 0-3 0-0 1 1 4 4
Brandon Hollinger, G 1-3 1-2 0-0 0 0 0 3
Alonzo Gee, F 1-6 0-2 1-2 0 2 2 3
Ronald Steele, G 0-4 0-0 1-2 0 2 4 1
Mykal Riley, F 0-4 0-4 0-0 0 1 0 0

Richard Hendrix was 12 of 17. The rest of the team, put together, was 10 of 41. We were 1 of 13 from deep. We were 12 of 17 from the free throw line.

Wanna know the most telling stat? Arkansas out-rebounded us 36 to 21. At our place. Had it not been for Justin Tubbs playing with (yes, that's right) emotion, this would be another 20+ point loss. Only this time, it would be at home.

So the Crimson Tide is now 2-4 in the SEC. 15-5 overall. We're not going to the NCAA tournament. In a game like this, that we needed in the worst possible way -- for confidence, for the home court winning streak, to stay in the hunt for another NCAA tourney bid -- the starters threw up a dud. They didn't show up.

Ronald Steele - Tell the coach that you're fucking HURT. I don't care if you're 80% to 90%. You're not the same, and you can't play with fire like you did last year. Sit your ass on the bench. One game winning shot over Georgia, in a game where you guys should have gotten beat -- AGAIN -- won't save your job with me. I'm starting Hollinger over you on Wednesday at LSU. Period.

Jermareo Davidson - Hey, Jermareo. I know you've had some trouble and everything. It's been tough being in your shoes. It must be very hard on you because you can't remember that you're 6'10" and should be playing down low. You took 2 three pointer today. STOP PLAYING ON THE DAMN PERIMETER. You're not a fucking shooter. If you're going to be the key to the offense, you need to do it down low. On offense AND defense. Please, just once, stay your ass under the basket. For just one possession. Please.

Alonzo Gee - How on earth can you just disappear in a game like this? Steele and Davidson have excuses (although I'm sick of hearing them). You're just worthless. 1 of 6 from the field and a missed free throw? 2 rebounds? You can't say that you put everything into your defense, because I watched. You suck. Pick it up or quit. Period. I'd rather have all of the idiots that transferred than be forced to watch you play with no fire again. I bet you're missing getting to play Coppin State and Alabama State, aintcha?

Richard Hendrix - How convenient that you decide to show up with 8 minutes left in the game. 7 Rebounds along with 28 points. 19 points came in the last 8 minutes of the game. This to go along with the last game where you didn't show up at all. 4 points in 19 minutes? Your fouls are ridiculous. Are you seriously the same kid that had to choose between Alabama, North Carolina, or the NBA? You couldn't make it playing in JUNIOR COLLEGE with the effort that you put out. If you knew that the rest of the team wasn't going to step up, maybe you should have done it before we got down by TWENTY FOUR POINTS.

Mykal Riley - I like you, kid. I really do. That article about you being shy and all that...almost making it where you couldn't play basketball...that was good shit. You could make a movie out of that. But right now, I couldn't really give a fuck less. You are the wing player. You are the three point threat. Go out there and shoot the damn basketball. 0 for 4 from the field, and all four from long range. Two of them were stupid shots that you had no business taking. You played over half the game, and you took four shots? You didn't play any defense, so what else were you doing? Oh, wait...weren't you one of the idiots standing around watching Brandon fucking Hollinger at the end of the first half?


This team is beyond worthless. There's no pride. There's no dignity. The comeback was too late and is just another hurdle we've gotta get past. Last year this team lost Chuck Davis, started out 7-7, lost to Ole Miss at home in the SEC opener, but was able to come back and win at Kentucky. Beat Florida, LSU, and Tennessee at home. Came back from a huge deficit to beat Arkansas at home. Basically, played with heart. Played smart. Did what they had to do to win.

I'm sick of watching this crap. These players don't give a DAMN about the name on the front of that jersey.

And if you bums read this, I hope it fires you up. Because obviously, getting DESTROYED by teams that just suck is not enough for you. Y'know what? Why don't all of you just QUIT. You're not acting like you want to play anyway, and it would save me from getting my blood pressure up like this. How ridiculous that I'd rather watch gymnastics than bama basketball.

This team that's beating us by 24 with about 9 minutes left, in Coleman Coliseum, just lost Wednesday night to South Carolina. South Carolina is the same team that got beat 80-56 at Georgia. Got beat 84-50 AT HOME by Florida. Got beat 87-49 AT HOME by Kentucky. They were on a 5 game losing streak before handling Arkansas.

This basketball team is fucking worthless. At the end of first half I screamed and yelled and cussed every single player on the floor. I watched the clock tick down, and guys just STAND THERE on the offensive end. They just sat and watched Brandon Hollinger take the ball inside. I'll say it again...they watched Brandon Hollinger.

Brandon Hollinger.

This is not exactly a show stopper here. He took the ball in, it went out of bounds with 4 seconds left, and Hollinger found a crease to where he could get it in to Hendrix to score a quick two pointer. Which, honestly, would have been blocked, had the Arkansas player not been out of position. Then, we get a gift...Arkansas throws it out of bounds and we get to throw the ball inbounds with 2.2 seconds under our own basket.

Hollinger is inbounding, and rather than throwing it to a post player under the basket, or at least giving guys some time to move around, he lets the referee count to ONE before throwing it up to almost halfcourt, where Davidson was able to grab it and toss up a 35 footer as time expired.

WHAT THE FUCK IS JERMAREO DOING AT THE TOP OF THE KEY WITH 2.2 SECONDS LEFT WHEN WE'RE INBOUNDING UNDER OUR OWN BASKET?

This basketball team has no idea what they're doing. After being blown out on the road in the middle of the week for the past two weeks, this team doesn't have enough pride to come out and try and protect their home court? I don't give a damn about the coaching. This goes beyond coaching. This goes to heart. This goes to brains. If they could think at all about what's happening on the floor, they could play with anybody in the country. Good teams don't have to win on emotion. They win by playing smart.

This basketball team is not well coached, has no heart, and is apparently stupid.

I quit.

I don't remember recruiting being this much fun...but after LSU pulled Luther Davis's scholarship offer and he jumped over to the Tide, this has just gotten to be too much fun.

The Birmingham News has a big article about Saban telling his coaches to "pound the pavement." All recruits are fair game until they sign on the dotted line.

Nick Saban is portrayed as a "recruiting ninja" thanks to his Armani suit and being the most gangster recruiter around. Thanks to Every Day Should Be Saturday...again...haha.

If you would like to see how much better this class is shaping up to be, check out the Commit List over at rivals.com.

Check out scout.com's official visit list. Joe McKnight isn't on there for next week yet. Michael McNeil from Mobile is in Tuscaloosa this weekend. The one I am insanely interested in is Jeramie Griffin, the 6'1" 220lb FB from South Panola in Batesville, MS. I watched him single handedly destroy Olive Branch in the Mississippi 5A North Division Championship game this year. It says he runs a 4.6 40...but I watched him take off on the first play of the game, right up the middle, and out run all of the DBs on the field. He ran over a linebacker, and then was gone. Ridiculous. He's committed to Ole Miss...but he's wavering.

We're going to be a force in a few years with this class. Haha.


at


Time: 2pm CST
TV: Lincoln Financial Sports
Place: Coleman Coliseum in Tuscaloosa, AL


This game could spell disaster for Alabama today. Arkansas killed us by 27 earlier this year in Fayetteville.

I would say that we match up well with them, and we should take this game over, but we've been playing awful lately. Even at home we don't look as good as we should.

But...at the same time, Arkansas is only 2-4 in the conference, and hasn't looked at all like the same team that clobbered us to start SEC play. No SEC west team has been able to win on the road, so everything points to us winning this game.

Today's prediction is based solely on the fact that Bama hasn't lost at home, Arkansas hasn't won on the road, and this is a bigtime revenge game for Alabama.

Prediction: Alabama 77 Arkansas 70

Friday, January 26, 2007 USC looks like they're in some big trouble. Tapes have been released showing that Reggie and his family did take gifts for him playing at USC? Does he lose the Heisman? Is this why Pete's been flirting with the NFL? Good lord.

Now, while we're on the subject of Reggie Bush...listen to me Alabama fans.... DO NOT CONTACT JOE MCKNIGHT OR ANYONE ELSE FOR THAT MATTER! It is illegal under NCAA rules to contact prospective commitments regarding them going to a certain school. It cost Kentucky a basketball scholarship. Yes, this includes talking to them on myspace and everything else. So for the guys that keep hitting up Joe McKnight's myspace account with Roll Tides and "you could be the first heisman winner at Bama" and all that crap...STOP IT. You're going to get us in trouble again.

Aside from that...another big recruiting weekend. Complete with a basketball game and everything. Should be fun times in T-Town. I'm actually thinking about taking a long vacation next week and going down. I haven't been since November and I'm about to have withdrawals. Haha.

Thursday, January 25, 2007 When #1 Florida almost gets beat at Mississippi State, that's when you begin to realize exactly what you're dealing with here. Granted, other teams aren't getting blown out...but they may as well, because a loss is a loss.

Last night, Florida won at Mississippi State, and jumpstart Vanderbilt won at LSU (who is proving to not be very good this year). Alabama is now a half game out of the Western Division LEAD. Ridiculous, my friends.

Anyway, on to the losses. Tennessee lost at Ole Miss (yes, without Chris Lofton), Arkansas lost at South Carolina (who is AWFUL), and Kentucky lost at Georgia in overtime.

Let's go team by team and see what their win loss record is at home and on the road in the SEC:

Alabama 2-0 at home, 0-3 on the road
Kentucky 2-1 at home, 2-1 on the road
Georgia 3-0 at home, 1-2 on the road
Arkansas 2-1 at home, 0-3 on the road
South Carolina 1-2 at home, 0-2 on the road
Tennessee 2-0 at home, 0-3 on the road
Ole Miss 2-1 at home, 0-3 on the road
Vanderbilt 2-0 at home, 2-2 on the road
LSU 2-1 at home, 0-2 on the road
Florida 3-0 at home, 2-0 on the road
Miss St 2-1 at home, 0-2 on the road
Auburn 3-0 at home, 0-3 on the road

Now, incase you didn't catch the point of this, there are 8 out of 12 SEC teams that are winless on the road. Georgia has 1 road win (at Arkansas, and Florida, Kentucky, and Vandy all have 2 road wins. The total record for SEC road teams so far is 7-26.

So is the SEC really this tough? There are potentially 6, and possibly 7, NCAA tournament teams this year. Alabama and Tennessee both built high RPIs early, along with Kentucky. LSU needs some work. Arkansas can steal a few, but needs to start winning the ones they're supposed to win. Vandy is on a hot streak, and Auburn looks like a team to reckon with. Florida, of course, will get in. Georgia is looking very good as well. So that, in and of itself, is 8.

We'll see this weekend if Alabama can handle Arkansas at home.

Wednesday, January 24, 2007 Alright...I'm just about done whining about the officials in last night's game.

That's the card you get dealt on the road, so I guess we'll just have to live with it. Either way, it's a 24 point loss on the road. Another blowout. Now we get to come home...again...to face another team that's already beaten us by 27 earlier in the year. So, even if we win this one and pull back even in the SEC, we still get to play at LSU next Wednesday. Yippee.

So what exactly is the problem with the basketball team right now? I would say it's only when they play on the road, but the early showing against Georgia was disgusting. Is it lack of hustle to start games? Is it a lack of defensive execution down the stretch? Is it lack of offensive execution?

I think, to sum it up, it's a combination of everything going wrong at the worst possible time. Sure, Ronald Steele had 19 points last night, but his defensive effort and his turnovers absolutely killed us. He single handedly gave them points on several occasions. Another problem for this team is lazy passes. Riley has been the biggest problem so far, but Steele, Davidson, and Torrance all threw weak passes to the wing last night that were picked off and returned for a dunk at the other end.

So, will this team ever show up? We know they're more talented than this. But, the 2003 team that was ranked # 1 in the country at one point was better than they showed, and they ended up with a 10 seed and a first round NCAA tourney loss to Indiana.

I guess, if you want to look at the good thing from all this, it's that we'll get Ronald Steele back next year. This year's draft is going to be ridiculously deep. He's had a horrible showing so far this year, and he would be lucky to be drafted right now. So we'll get back four starters next year, since Davidson is a senior.

I just hope this team doesn't completely collapse. I don't blame this on coaching...I blame it on players not stepping up when their leader is down. If you remember last year, Steele single handedly won several ballgames for us. His dribble drive ability and his fiercely accurate 3 point shooting helped us beat Florida, Tennessee, Arkansas, Vanderbilt, and many many others last year. This year he just can't do the same things he's done before. Keeping him in the ball game destroys any defensive ability we may have had, because when we're in a 2-3, that opens up spots for outside shooters. When we're in man to man, Steele can't guard the opposing player, so he is able to penetrate and create open shots because others have to come in and help.

It's very possible that this could be the most frustrating basketball season I've witnessed in quite a while.

Tuesday, January 23, 2007


That video is all you need to see of the game at Auburn. There was no foul called. This went on all night. I am currently working on a letter to the SEC Director of Officiating. If I were the SEC, I would be absolutely embarrassed by the performance of these referees tonight.

I understand the home team getting a majority of the calls. I understand the term "home-court advantage." But, this was beyond disgraceful. This was the officials making it impossible for one team to be able to win a basketball game.

Now, before you call me a homer and a whiner, I thought the same thing about the Arkansas-LSU game in Fayetteville last Saturday. Alabama also took advantage of a no-call against Georgia on the last play of the game Saturday, so it's becoming a big time trend with SEC officials everywhere in the league. I was not able to see the Vanderbilt game, but I'm sure it may have gone something like this.

Alabama was not allowed to be a physical team tonight, and Auburn was. Plain and simple. In the first half, we were able to knock down some threes, and we were able to play with them down low a little bit because the officials were calling a slightly more even game. Every double team by Auburn was a hack & slap & bump until the kid does something stupid with the basketball. No fouls were EVER called.

I watched illegal picks over and over and over without anything being called. Hell, I watched ESPN diagram what they called a "headhunter pick" which was SO OBVIOUSLY A MOVING PICK, but of course it was never called. That resulted in a three pointer for Auburn.

The fast break no call that I posted above is evidence enough to show what I'm talking about. We had a lead at the half, and Auburn came out in the 2nd half and killed us in the post. Two 6'7" kids killed us in the post. Hendrix sat almost the entire game with foul trouble. They called the pettiest crap on him, and then allowed Auburn to hammer away at our boys. I'm surprised there was not a fight tonight. The team basically gave up with about 5 minutes left in the game. After trying to force the ball inside for about three minutes (from the 8:30 mark on down) and getting beaten to death on every play, the kids were physically and emotionally drained. They gave it everything they could, but their will was killed by no calls.

Hendrix was about as frustrated as I've ever seen him. The officials let Auburn kill him on the offensive end, but if he so much as brushed an Auburn player on defense, they called a foul on him. He picked up three fouls in the first half, and only played a few minutes in the second because he quickly picked up his fourth foul.


Either way...once again, we have to regroup after a blowout road loss and prepare to play a rolling team coming into Coleman. I'm actually really scared about this game because I feel like the team is getting down on itself. Props to Gottfried for taking the blame for this one, although it was clearly out of his hands. If I were him I would have gone insane in the post game news conference. Officiating cost his team a chance tonight. I'm not saying they cost them a win...but a chance. We didn't get that in the second half tonight.

To go along with the direction that this season's basketball team has taken, we are offering two new shirts over in the store, with more to come later.



The front says "So what if we can't win on the road..." and the back says "we'll still beat your ass at home."




The front says "we love our hobbled point guard." The back is blank.


Here's hoping the thing about the road will change tonight. :-)


@


Time: 8pm CST
TV: ESPN
Place: Beard-Eaves-Memorial Coliseum in Auburn, AL


Alabama goes into Auburn with a 7 game winning streak over the Tigers. That's quite a streak if you ask me. Anyway, I remember several heartbreakers to the Tigers at Beard-Eaves, most notably the halfcourt buzzer beater several years ago that just about made me throw up.

Alabama is coming off a horrible performance at home, but I give credit where credit is due - they did what they needed to win the game. That shot by Ronald Steele could be what Alabama needed to get them right and propel them on to bigger and better things. Bama is currently tied with LSU and Mississippi State at the top of the SEC West at 2-2. This is a very important stretch of games, especially with Arkansas coming into Coleman this coming Saturday.

No West team has won a conference road game so far this year, so if Alabama is able to pull it off, it will be the first western division road win of the season. Which only seems fitting that Alabama should do it against Auburn. The Tigers are 8th in the SEC in scoring offense, and 11th in scoring defense. They are also 9th in the conference in 3 point percentage, but that number is insanely misleading because it has Alabama as the 2nd best 3 point defense in the league, which we know is crap.

Basically, I don't think they can shoot, and I don't think they've got the bodies down low to play with us. They may beat us, but it'll be based on emotion. I like the Tide in this one.

Prediction: Alabama 72 Auburn 64

"At seemingly the darkest moment in the Tide's history, the school rises like Phoenix from the ashes." Paul Finebaum's article this morning was great. Auburn fans are still trying to figure out how to kill Bama.

More about Nick Fannuzi committing to the Tide yesterday. Looks like we're going to be swapping quarterbacks with Miami for this class. Which is fine by me.

This morning's recruiting notebook in the Birmingham News has quite a bit of good info...although, I'm not sure how on target some of it is. A little bit about Jared Cooper reiterating his commitment to Auburn, some more about McKnight's 'possible' visit (I still think it's a done deal), and more about Brandon Gibson.

Monday, January 22, 2007 Rage Against the Machine is reuniting for one show at the Coachella festival. Now I've just gotta get tickets and a plane ticket and a hotel room. Haha. I can't afford it, but I'm gonna try.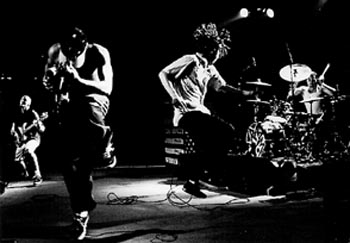 Offensive Lineman Jared Cooper says "you can't be a fan anymore." I don't believe that anyone that "grew up an Alabama fan," especially in the state of Alabama, would have trouble deciding whether to take a scholarship offer from Alabama or Auburn. Cooper...you better pick pretty quickly...and even still, you'll have a hard time convincing me what your true allegiance is.

Saban has already offered a scholarship to Tyler Love from Mountain Brook for the 2008 class. He also apparently made up a lot of ground with some big time recruits and got closer to receiving commitments from John Brown, Maze, and Corley, who has already committed to Florida. Corley said "I was feeling real good about Alabama, and then coach (Mike) Shula got fired," Corley told the recruiting web site. "I had some doubts, but after this visit I'm starting to feel that way about Alabama like the old times again."

The Tuscaloosa News has a great story about the potentially record crowd at the A-Day game that's happening in April this year. Great stuff...lots of out of towners coming in. Can we get 92,000 for the spring game?

Nick Fannuzi, from San Antonio, has committed to Alabama this morning.

The latest rumor has Tommy Tuberville or possibly Houston Nutt as candidates for the Dallas Cowboys new opening.

Also, apparently Neyland Stadium is falling in.

Sunday, January 21, 2007 Alabama only has three football players in the AFC and NFC championship games. Here they are...


Wesley Britt is an offensive lineman for the New England Patriots.




Mark Anderson is a defensive lineman for the Chicago Bears.




Roman Harper, safety, is on the injured reserve for the New Orleans Saints after tearing his ACL earlier in the year.

According to Josh Cooper at the Colombus Ledger-Enquirer, Nick Fanuzzi is considering the Tide more because they hired Major Applewhite. Makes sense because Fanuzzi is from San Antonio.

I'm sure that a lot of people won't like Saban's recent visits with some of the LSU commitments, but I thought it was awesome. He flat out told them "there is no way that the coaching staff at LSU can compare to the coaching staff we have at Alabama right now. He gave no credit to anyone." The family members said "Saban took credit for LSU's 22-4 record since he left, saying it was done with players he brought to Baton Rouge." One of the fathers said he felt Saban was overconfident...which is something that I fully expect out of an Alabama coach. Saban knows we can win, and that we WILL win. The game against LSU in November is going to be insanely fun. Haha.

Scout.com's Scott Kennedy says that Saban's impact on this year's recruiting class will be minimal. His biggest goal will be to make sure he can hold on to the commitments he's got. I think that's crap, because if he lands a few of these 5 stars that seem to be reallly interested, and then caps it off by landing McKnight, it will be a top 10 class, when we were steady around number 20 to 25.

Joe McKnight ain't Reggie Bush. But he's close. This article goes into detail about the kid's life and how people are recruiting him, etc.

Nick Gentry, defensive lineman from Prattville, talked with the Montgomery Advertiser about Coach Saban's recent visit with him. Saban flat out told him "he wasn't going to redshirt me so don't expect it. That was a big plus for me because I didn't want to redshirt, I wanted to go in and show my thing and try to start. I really didn't get to do that my senior year (at Prattville) because of injuries. He got into the academics -- coach (Mike) Shula and them really didn't talk much about academics. He told us he expected us to get a degree more than he expected us to go into pro ball and that's a big plus for me because that's what I want to do." "I was relaxed with some of the (former) coaches," Gentry said, "but coach Saban came in with his staff and they seem like they know what they're doing. If that's what it takes to get a championship, I'm glad they did get the change."

Saturday, January 20, 2007 Oh yes, my friends...oh yes.



I didn't actually post my prediction and game preview this morning. I was kinda in a rush to finish, and clicked "save as draft" rather than "publish."

Anyway...on to the game...


HELL YEAH!! ROLL TIDE!!!
That was probably the most excited I've been about anything in a VERY VERY long time. That last second shot by Steele was absolutely incredible. I was wrong about the final score, but I wasn't too far off. I was also wrong about them playing more man to man...they played it some, but not as much as I thought. Georgia KILLED them when we played both the 2-3 zone and the 2-3 matchup zone. They would take their shots as the defenders were switching up. Georgia's got a damn good basketball team and, had they not lost their composure at the end of the game, should have won this game.

Again though...props to Ronald Steele for looking adversity in the face and slapping it like a bitch. I guess that would explain why they've been playing him so much. And, y'know, it's time they had a little luck. They needed this one. Now let's go beat Auburn on Tuesday.


vs.


Time: 12:30pm CST
TV: CBS
Place: Coleman Coliseum in Tuscaloosa, AL


Alabama, fresh off of a big loss at Vanderbilt, gets a chance to redeem itself against a very hot Georgia team, who is 3-1 in the SEC following a win at Arkansas on Wednesday night.

Bama could run into some problems with Georgia, due to the Tide continuing to run that dreaded 2-3 zone. They will have to play a lot of matchup zone today due to the undersized guards from Georgia. The Bulldogs are 2nd in the conference in 3 point shooting, and if they get hot early, they could kill Bama, even at home.

I think that following Wednesday's disaster at Vanderbilt, Alabama will play more man to man and probably sit Steele a little bit more than they have been. It's obvious that he's hurt, and his inabilities, both offensively and defensively, are killing this basketball team. Georgia will hit their shots, but Bama's got too much pride to get beat at home. Look for a close game to come down to the wire.

Prediction: Alabama 80 Georgia 75

Friday, January 19, 2007 Thanks to the cats over at the M Zone for the linkage to my College Football playoff story.

Also, for those trying to find it, like I have been for a while, here is the Scout.com official visit list for Alabama. You can search each weekend as they are confirmed.


"McKnight rated No. 2 prospect in the nation by Rivals.com
"Coach Saban came by the school for a while today, and we talked. It went really well. He talked about Alabama and how he would like me to come and play for him. He went over the running backs they have and how they would use me in his offense. Just the usual stuff, but I was talking to Coach Saban so that was different," McKnight said. "It was good seeing him again. I knew he was coming, and I had been looking forward to it. I followed the whole coaching search and was curious to see if he took the job. When he did, I was hoping he would at least contact me. He's a great coach, and there are a lot of players who would want to play for him.

"I've known him for a long time. We initially met with I was 8th grade, and he was out at the school watching me practice. It was a big deal for him to be there, and I watched his teams at LSU and loved the style he coaches. At the time, he probably didn't know I was going to be a prospect, but he was nice to me and that stood out.

"I told him before he left that I would visit the last weekend before signing day. I had the next two weekends full, but I'm going to visit there before I decide anything."

McKnight admitted a respect for the Alabama program and a respect for the storied history.

"I know enough about Alabama including that they've won 12 national championships. That's always attractive and growing up in the South, you know they are one of the top programs," McKnight said. "I found it interesting when he told me his starting backfield was gone and that I would have an even field to compete against the other backs because they were inexperienced too. I have a lot of respect for their program.

"The campus, academics dorms and the rest, I'll learn about on my visit."

With three official visits left, the nation's second-best prospect overall claims no overall favorites.

"For me everyone is pretty much even. Everyone wants to give me a top two, but it's USC, LSU, Alabama and Ole Miss. I visit USC this weekend and then LSU. After that, I'll wrap it up with Alabama," McKnight said. "I'm just looking for a place where I can play ball, get a good education and enjoy college. I want to compete for a national championship and play early if possible."

This from Rivals.com. Seems to be pretty big on Coach Saban and Alabama. Glad we got the final visit.

We'll start out talking about Josh Cooper's article in the Decatur Daily regarding how University of Alabama faculty feels about bringing in Coach Saban for $4M per year. The interviews are very split on the matter, but I would be willing to bet that around 65% or 70% of the faculty are ecstatic about the hiring. Either way, it is a very interesting read.

It's always nice to read something from someone that you KNOW has no clue about Alabama or anything to do with football in this state (ahem, L.C. Johnson of the Montgomery Advertiser).

Andrew Bone, over at TideSports.com, has an unofficial visit list for this weekend. He tells about each of the players, including five-star defensive tackle John Brown, from Lakeland (FL), four-star receiver Brandon Gibson from Mobile-UMS-Wright (AL), U.S. Army All-American quarterback Nick Fanuzzi, from San Antonio-Churchill (TX), three-star receiver Marquis Maze, from Tarrant (AL), three-star safety Elliott McGaskin, from Mobile-B.C. Rain (AL), three-star cornerback Sherod Murdock, from Tampa-Middleton (FL), and two-star offensive lineman Jared Cooper, from Brewton-W.S. Neal (AL).

Cecil Hurt, as usual, provides a great analysis of what is happening to the Crimson Tide basketball team, and tells how Gottfried will go about handling it.

The Fayetteville, AR newspaper - Razorback Central - discusses how easily Alabama could turn things around this year in basketball. It talks about the youth of the team and how much more they will grow once they get closer to the tournament. Ronald Steele's health, of course, is an issue, so we'll have to figure out where to go from there.

Thursday, January 18, 2007 This story from some of the guys down at the University is pretty interesting. THEY GOT TO CARRY NICK SABAN'S GROCERIES! Haha. Good quotes from Kirk Herbstreit as well. This looks to be a solid year.

If you didn't already know, Vanderbilt KILLED Alabama in Nashville again. The final was 94-73, but it wasn't really that close. Read my previous post regarding the dangers of keeping Ronald Steele on the floor and religiously playing a 2-3 zone against good shooting teams.

Ray Melick has a good article about whether or not the Dolphins are serious about hiring Mike Shula. People in Miami seem to be ok with the idea, especially since it could just be a one year thing while they wait on possibly Cowher, Parcells, and maybe Marty Schottenheimer after next year.

Josh Moon, from the Montgomery Advertiser, has a pretty damn good article up about the hiring of Saban being worth it so he can clean out the Alabama program. He claims that if he can clean out the rift-raft and the so-called "advisors" for the football program, it doesn't matter if he only stays two years - he will have earned his paycheck.

Defensive end Kourtnei Brown says "I am going to Alabama." Pretty cool to hear that from one of the top kids in the country.

Ok, so with last night's humbling defeat to Vanderbilt, Alabama is left to figure out exactly where to go from here. We'll make our predictions on the rest of the season and see how they stack up...

Sat, Jan. 20th - Georgia - W
Tues, Jan 23rd - @ Auburn - W (?)
Sat, Jan. 27th - Arkansas - W (?)
Wed, Jan. 31st - @ L.S.U. - L (?)
Sat, Feb. 3rd - South Carolina - W
Wed, Feb. 7th - Mississippi State - W
Sat, Feb. 10th - @ Ole Miss - W (?)
Wed, Feb. 14th - @ Florida - L
Sat, Feb. 17th - Kentucky - W (?)
Wed, Feb. 21st - @ Tennessee - W (?)
Sat, Feb. 24th - Auburn - W
Wed, Feb. 28th - Ole Miss - W
Sun, Mar. 4th - @ Mississippi State - W (?)

Georgia, this weekend, has the ability to beat us. They do have some talent. Their only issue is they don't have great shooters. If they don't get hot early, Bama will beat them. After a trip to Auburn, which I'm thinking we'll win because we've won God knows how many in a row over them (although you can't bet on anything). We then host Arkansas in a revenge game the next Saturday. I would say we'll destroy them because it's a revenge game...but I think it has to do with whether or not we play that weak 2-3 zone against them. We'll see how Ronald Steele is feeling by that time. Playing at LSU is never easy, but we match up well with them because they have NO outside shooters. And if you think Tack Minor is a shooter, you're an idiot.

After that, we're lucky because we get South Carolina and Mississippi State at home before traveling to Oxford, MS to take on Ole Miss. Any of those teams could sneak up and beat us, but I don't think any of them will. Ole Miss still has the talent problem, and their lack of shooters is good for us.

Then comes the backbreaker of the schedule: @ Florida, hosting Kentucky, and @ Tennessee. I can see all three of them killing us. We might have a shot to beat Kentucky because it's at home and I haven't seen them shoot incredibly well as of yet. I also think that we can run with Tennessee (if Steele is either healthy or out of the game) - I think we can win that one partly because we've beaten them 8 straight times.

Then we get to close out the schedule with Auburn, Ole Miss, and at Miss St. Might lose at State. Doubt it though.

So, if all of that goes as planned, then we will finish the season at probably 12-4 or 11-5. That's ideal. That would put us at 24-6 overall. Which would be around a 4 or 5 seed in the tournament. Which would suck, but could be cool depending on the matchup. 5 seeds are usually seeds that are slumping from the upper tier, so that might work out if we can land a 4 seed.

Oh well...I'm getting ahead of myself.

Wednesday, January 17, 2007
It's ridiculous how I didn't see it before. I was curious why Alabama continues to run a damn 2-3 zone when they get killed on the perimeter. Teams with good shooters will destroy Alabama every single freaking game if we're playing zone.

The 2-3 zone is designed to stop dribble penetration from the guards and is meant to keep the ball from going to the big men in the middle. Teams run this when they cannot man-up with a good forward or center from another team. It is also used when there is a weak defender in a crucial spot on the floor that can destroy an entire defensive set. For example, Ronald Steele.

At first, I thought it might be a good idea to have Steele play even with his injury. It's obvious he's not 100%, but I thought that his leadership would get everyone else to step up and play a bigger role. It's not that his teammates are playing big...it's just that it's almost impossible to do that when you allow teams to just crush you offensively.

Vanderbilt hit 15 out of 28 three point attempts. Are you fucking kidding me? After the first 3 or 4, you pull Steele and get the hell out of that zone. That's what it means for someone to "shoot you out of a zone." It will work when the other team doesn't have shooters (i.e. LSU), but not when a team has nothing BUT shooters. This was a horrible coaching decision by Coach Gottfried to allow them to keep playing this style. The 2-3 zone allows a lot of open perimeter shots, so to continue playing that against a team that is red-hot from outside is just insane. (i.e. @ Arkansas and @ Notre Dame)

I wish somebody in Tuscaloosa would listen to me on this. PLAY BRANDON HOLLINGER FOR THE LOVE OF GOD. You prepared him and Torrence and the other guards in the "pre-season." They are good, capable players. Keep Steele out of the lineup because he is KILLING THIS BASKETBALL TEAM. If you score 73 points on the road, you should at least be in contention to win. This is 3 blowouts so far this year. If I see another one, I'm going to quit writing about it.


Oh well...on to happier thoughts -- my birthday was on January 11th and my little brother got me a freaking awesome gift.




Pretty damn cool. Now I just need to get one of him at the press conference. Anybody got a large, good quality sized picture of Saban at the Press Conference? I've already booked my hotel for the last weekend of April.


at


Time: 7pm CST
TV: None (radio is 990am in Memphis)
Place: Memorial Gymnasium in Nashville, TN


Nashville has not been kind to Alabama since Mark Gottfried took over in 1998. The Tide has gone 0-fer at Memorial Gymnasium since then, and has always had a difficult time with Vanderbilt, no matter where we play them. We had lost 4 straight to them before last season's 77-74 overtime win - Alonzo Gee sent the game to overtime with a monstrous dunk at the buzzer. Vanderbilt is always stocked with shooters, and this year is no different. Four of their 5 starters average in double figures. The matchup of the game will be Alonzo Gee against Derrick Byars. Byars is the star player for Vandy, averaging over 15 points per game playing on the wing (he is a G/F combo player).

We're not really sure what kind of team Vandy is, but we do know that they've lost to Auburn and Georgia already, and beat Tennessee at the last second last Wednesday. They have home losses to Georgetown (by 16), Furman (by 8), and Appalacian State (by 8), but they've also handled Georgia Tech there (by 9).

This game could spell trouble if they get their outside shots going early, but if we can pound the ball inside and sneak out our first win in Nashville in what seems like forever, it also leads to a good next few games - Georgia, at Auburn, and then Arkansas at home for the revenge game. Alabama has a clear size advantage against Vandy. The 'Dores have no centers and they only start one big man - Ross Neltner, a 6'9" forward. They are 11th in the conference in rebounding and 12th in blocks. Of course, that leaves four other guys on the floor that can shoot the lights out. Either way, we should be able to dominate the middle, and as long as our perimeter defense shows up at all, I think we can take this game.

Prediction: Alabama 77 Vandy 68

I don't know who Nick Fanuzzi is, but this just shows that Saban is hitting the recruiting trail pretty hard.

If you haven't heard of Marquis Maze then you should. He's another Tyrone Prothro. Saban knows this and so should you. Currently he's committed to Michigan. We'll see how long that lasts.

Shula has apparently met with the Dolphins twice this week regarding their head coaching vacancy. This story kinda blew up over night and would be huge publicity for both Alabama and the Dolphins. Can you imagine the media hoopla that would be going on during this season if the two were to swap coaches?

Coach Saban has offered Auburn commitment Jared Cooper a scholarship. He 'supposedly' grew up a Tide fan, but committed to Auburn. He is a 6'4" 287lb offensive lineman from WS-Neal with a 4.0 grade point average.

Tuesday, January 16, 2007 Work sucks. Everyone knows that. Here's what happened while I was doing work away from the computer for once...

Mitch Mustain has been granted permission to transfer from Arkansas by Coach Houston Nutt, according to ESPN. KFSM is reporting that he packed up and left today. You've gotta wonder if maybe the Springdale crew kept this team from being a national title contender.

The newest candidate for the Miami Dolphins coaching job is Mike Shula. Kinda funny to me, but I guess his laid back, no discipline approach and his pro-style offense could actually win in the NFL. Here's to you, Mike. I wish you the best and I hope to hell that you get this job. Roll Tide.

You may be wondering, "What the hell does Colt Brennan's decision to declare for the draft have anything to do with Alabama?" One of the other top schools on Robert Marve's list is Hawaii. If he can go to Hawaii and start immediately, I would think that's gotta be pretty intriguing. I still think he's bound for Tuscaloosa though.

You know that Nick Saban loves the underdog role a lot more than being a favorite. So I guess we can thank Dennis Dodd for not including Alabama in his preseason top 25. I'll gladly stay out of the top 25 and notch a couple of home wins against Arkansas and Georgia before playing Florida St in Jacksonville, FL. Then maybe we'll sneak in at 24.

WKRG did a story about Nick Saban on some recruiting visits in Mobile. "Roll Tide baby. We're ready to go." Pretty awesome to hear that. Haha.

And finally, LSU hired Gary Crowton from Oregon as offensive coordinator. I, along with many others, believe this is a good hire for LSU...if Miles doesn't handcuff him. i.e. Jimbo Fisher.

It appears that Coach Saban has completed his staff. Bo Davis will help coach the defensive line, along with Lance Thompson, so he will be an on-field assistant. Burton Burns, the running backs coach from Clemson, has resigned his position under Tommy Bowden and is headed to Tuscaloosa, according to the Mobile Press-Register. Looks like a good pickup to me.

I won't be able to post for the rest of the day, so let me remind you to please visit the Official Memphis Tider Web Store. Lots of goodies over there. We've already sold quite a few shirts.

ROLL TIDE! If you hear of any news while I'm out, please spot me an e-mail - my contact is on the top right side of the page.

Monday, January 15, 2007 These will get more detailed as we get closer to March. This is what I think the field will look like by March, not what I think it would look like if the tournament started tomorrow.




Yeah, I'm a little bit biased. I came up with these using the cbs sportsline rpi - not the one from collegerpi.com.

It looks like Cecil got tired of everyone bashing Alabama. He writes about how what Bama fans want is not unreasonable, and goes into discussing other teams wants as well - comparing the two. Good article (like usual).

Scarbinsky writes about the possibility of Bama stealing Joe McKnight from USC and LSU. If Saban pulls this one off, it'll be even bigger for Alabama than Saban's hiring. (Ehh...probably not...nevermind.)

Kerry Murphy, from Hoover, commited to Alabama this weekend after his official visit. The only problem I can see with this kid is his grades. If we can get him in school, he'll be a hell of a football player.

"Spring practice is likely to start the week of March 19 -- the week students return from spring break -- and will continue through most of April, with the annual A-Day game the last week of April." - this according to Tim Gayle of the Montgomery Advertiser. I would wait on an official date to be announced before booking hotels if I were you though. Haha.

Props to Bino for picking off the miracle worker for a pick-6 in the Hula Bowl yesterday. Also, Ramzee looked pretty good returning kicks...why didn't we have him back there with Javier Arenas on kickoffs? Oh well...I hope he gets drafted. That kid's a playmaker.

And, to close out...looks like the Razorpigs are in trouble again. ESPN.com is reporting that Gus Malzahn, first year genious offensive coordinator, is leaving to join Todd Graham's staff at Tulsa. Does this mean Mitch Mustain is next? Then possibly Ben Cleveland. Tulsa is only 90 minutes from Springdale, AR.

Sunday, January 14, 2007 So I guess Robert Marve confirmed that Coach Pendry is the offensive coordinator and Coach Applewhite is the quarterbacks coach.

Well, thanks to yesterday's results, Alabama is now leading the SEC's Western Division. Arkansas got beat by Ole Miss to put their SEC record at 1-2. They've lost at Florida and at Ole Miss since destroying the Tide. Bama won Tuesday night against LSU to put their record to 1-1, same as LSU, who escaped Auburn in Baton Rouge on Sunday 65-63. Here's the standings so far:

EASTERN DIVISION
Florida 3-0, 16-2
Kentucky 3-0, 14-3
Georgia 2-1, 10-5
Tennessee 1-1, 13-4
Vanderbilt 1-2, 11-6
South Carolina 0-2, 10-5

WESTERN DIVISION
Alabama 1-1, 14-2
LSU 1-1, 12-4
Arkansas 1-2, 12-5
Ole Miss 1-2, 12-5
Miss St 1-2, 10-6
Auburn 1-2, 11-7


NCAA Tourney locks: Florida, Bama, Kentucky, LSU, Tennessee
On the Bubble: Arkansas, Georgia, Ole Miss, Vandy

Doubtful: Auburn, Miss St, South Carolina


As far as the national poll goes, here's my top 16:

1. Florida
2. UCLA
3. Wisconsin
4. North Carolina
5. Kansas
6. Texas A&M
7. Arizona
8. Pittsburgh
9. Alabama
10. Ohio St
11. Oregon
12. Butler
13. LSU
14. Duke
15. Oklahoma St
16. Air Force

I will be posting my bracket predictions over the next few weeks.

According to Mike over at Card Chronicle, Pete Carroll is leaving USC for the NFL.

Remember...I'm not the one reporting this...I'm just linking to another story.

Saturday, January 13, 2007 So everyone has been talking about the ESPN bias, and how everyone at the network seems to be bashing Coach Saban.

If you have ever heard Colin Cowherd's show The Herd on ESPN radio, then you have heard Compass, his trusty sidekick / producer. I'm sure Compass helps do a lot of the research and show prep, including ripping off our friends over at the Michigan Zone, without giving them proper credit. Eventually they did, but only after so many people caught on.

Anyway, our Auburn graduate buddy here, Compass, also known as Chadd Scott, has a website where he likes to post his opinion. For a supposedly "unbiased" employee of ESPN, he sure does have a strong opinion about Coach Saban leaving for Alabama. Check out Not a Dolphin, a snake. Remember...he is an Auburn graduate.

Let me know when you stop laughing.

It's been confirmed -- it's official. From the University of Alabama, Major Applewhite has been hired to Coach Saban's staff. His position is unknown, but it looks like he will be the QB Coach and possibly the co-offensive coordinator.

So now, the staff looks like this. The positions are just speculation. You can only have nine on-field assistants. Those marked with * are not on-field.

Nick Saban
Kevin Steele - Defensive Coordinator / Linebackers
Lance Thompson - Defensive Line
Kirby Smart - Defensive Backs
Todd Alles* - Director of Football Operations
Joe Pendry - Co-Offensive Coordinator / Running Backs
Bo Davis* - Strength and Conditioning
Steve Marshall - Offensive Line
Ron Middleton - Tight Ends / Special Teams
Major Applewhite Co-Offensive Coordinator / Quarterbacks

So we've just got wide receivers, and possibly special teams left to work on (I'm not convinced Ron Middleton will be coaching special teams).

Paul Finebuam is still ecstatic about the hiring of Coach Saban. I think he could actually be cheering for Alabama this year...haha. He lists a ranking of the SEC's best coaches in this article.

Saban, yesterday, added 3 members to his coaching staff: Ron Middleton, tight ends coach from the Tampa Bay Buccaneers (former Auburn standout), Steve Marshall, offensive line coach from the Houston Texans, and Bo Davis, one of his Strength and Conditioning coaches from LSU who was recently with him in Miami.

Still no other confirmation on Major Applewhite, but with Pendry, Marshall, and the possibility of Jeff Brohm coming in as offensive coordinator, where do we put all of these people? Applewhite and Brohm are practically the same guy.

So we know that this is what we've got right now:

Nick Saban
Kevin Steele
Lance Thompson
Todd Alles*
Joe Pendry
Bo Davis*
Steve Marshall
Ron Middleton

* - will not be an on-field assistant.


I think I like the direction the staff is going right now. Everyone has a different strength.

No basketball today. We pick back up with Vandy on Wednesday night. Memorial Gymnasium is a tough place to play. With Georgia at home and Auburn on the road, that makes the Vandy game incredibly important. We could be 4-1 in conference when we go on that stretch playing Arkansas, at LSU, South Carolina, and Mississippi State.

I don't think I'll be making any games until Feb. 10th at Ole Miss, so if anyone is attending, let me know.

Friday, January 12, 2007
According to the Houston Chronicle, an NCAA official has confirmed that Major Applewhite has left Rice to become quarterbacks coach at the University of Alabama under head coach Nick Saban.

More on this as it is confirmed. Stay tuned to TideSports.com as well.

EDIT: Check out this invterview with Applewhite from last summer. Thanks to the Spirit of Bill Oliver.

Coach Saban is, of course, in no hurry to finish putting together his coaching staff, he said Wednesday. A couple of possibilities for offensive coordinator could possibly be looking at other jobs: Jason Garrett is a candidate at LSU (the Dolphins denied the Browns' request to talk to him), and Major Applewhite is also a candidate at LSU for OC, and also a candidate to replace Todd Graham as head coach if he were to leave to coach Tulsa.

Saban also talked about Joe Kines a little bit yesterday in the Huntsville Times. He said he has a lot of respect for Joe and would like for him to remain here at the University, but it has to be something that works for Joe. Coach Kines is going to be around a while, I would imagine.

Cecil Hurt wrote a great article today in the Tuscaloosa News talking about Coach Saban's use of time, etc etc. He really liked how he handled the press conference yesterday. He also discussed all of the recruiting talk that was done and how Coach Saban is handling previous commitments to the school.

BamaMag.com touches on the new Vegas mentality of the team - What happens in the locker room, stays in the locker room. Good article about how much things are changing in Tuscaloosa already. It's only been one week and Coach Saban has completely changed EVERYTHING about the football program - from how press conferences are handled, to how information gets out, to what happens in the locker room.

Kevin Scarbinsky wrote a telling article in the Birmingham News regarding how basketball has, once again, taken a backseat to football. But Gottfried, of course, can handle it. Good interview quotes.

SportingNews.com has a good article about how coaching means everything in college football nowadays. More justification for Saban's hiring.

Andy Newberry at the Decatur Daily proves to be a jackass.

Nick Saban will be on for ESPN's The Interview on Sunday night Sportscenter for the next two weeks. Some excerpts from the interview with Chris Mortensen can be found here.


I'll have more throughout the day.

Thursday, January 11, 2007 So today's press conference was nothing more than a gathering of media members that wanted a chance to talk to Coach Saban now, because he won't be available to talk to later on because of recruiting. Cool with me.

He somewhat went off on one reporter for asking about how he's going to evaluate the talent on the team -- stated that evaluating is not his job. Their job is to teach them to be better football players. He doesn't have to evaluate them to teach them to get better. (Made me smile).

Went on to state that he will announce who is staff is when it is completed (see my other posts for more on that). He will be on the road quite a bit over the next few weeks doing recruiting. He also stated that they will be pushing spring practice back as far as possible this year to give the players time to work on their strength and conditioning, and to give him a chance to get to know everyone and get everyone on the same page before they begin. He did not go into detail about the dates, but said he would let everyone know.

I, personally, am looking forward to it. I liked this press conference. Short, sweet, to the point. He was nice, but stern...friendly, but straight-forward. I dug it because, for once, rather than having media take over the press conferences, you could tell that the coach was in charge. He didn't answer questions he didn't like. It's a good indication of things to come. haha.

Ryan Perrilloux can't stay out of trouble. He is currently under federal investigation, and the rumors are swirling that it could have to do with money laundering or counterfeiting. Who knows though.

Nick Saban has scheduled a press conference for today at 11:30am CST. He also put out a press release, found at rolltide.com, that confirms he has hired Joe Pendry, former offensive coordinator and offensive line coach of the Houston Texans, and Todd Alles, program assistant at The Ohio State University. Alles will be the director of football operations. Pendry's position is unknown right now.

And, according to The Birmingham News, Saban is looking at Jason Garrett, quarterbacks coach for the Miami Dolphins, as a candidate for the offensive coordinator position. He and Pendry could possibly be co-coordinators.

In the same article, Ian Rapoport also states that Steve Marshall, former Texans offensive line coach, has also accepted a position on the staff. Bobby Williams and Travis Jones, both of the Dolphins, elected to stay in the NFL rather than join Saban's staff. Rumors are still floating about Major Applewhite, of course.

Saban met with the team for the first time yesterday. He made sure that no members of the press were allowed to speak to him, his assistants, or any of the players. Hell yes.

11am CST - myfoxal.com will broadcast live

my guess is it is to announce more coaching hires. he wants to announce them before the first big recruiting weekend.

Wednesday, January 10, 2007 Here is the video of Coach Saban's entire halftime speech.

You've just gotta love youtube. It's incredible. You can find all sorts of cool things on there.

Anyway, onward to more assistant coaching news. Major Applewhite is also being courted by LSU for its vacant OC position, according to The Tuscaloosa News. Turns out that Major's dad grew up in Baton Rouge, but was the President of the Alabama Alumni association.


The Alabama basketball team can look back at Wednesday's 71-61 win over LSU and see good things for the future. They were able to beat the Tigers, Bama's main division opponent, without playing their best basketball. Of course, it's easy to do that when you're hitting from outside like they were early.

Of course, when it came down to crunch time, Richard Hendrix once again showed that he's one of the strongest players in the country by taking Big Baby Davis to the hole time after time. This was a great win, and it was the perfect remedy for last week's thrashing at the hands of Arkansas (who lost at Florida, 79-72). Every SEC West team now has at least one loss, so we'll go ahead and start the season over now. Bama doesn't play again until next Wednesday at Vanderbilt, so hopefully by then, Ronald Steele should be back to around 90%. We hope.




Of course, leave it up to the football coach to be the star of a top 20 SEC basketball game. haha. Saban's introduction was absolutely ecstatic, from what I understand.

Mark Schlabach from ESPN.com wrote this morning about how good things are in Tuscaloosa right now. He went on to discuss how good Saban's appearance was, and how good the basketball team is as well.

""Let's all work together to make a difference, and show them what we got baby," Saban said. "Let's go!" The Mobile Press-Register talked about the appearance, as well as the Montgomery Advertiser, the Decatur Daily, and The Tuscaloosa News. It was good to hear about the Sabans donating $100,000 to the University scholarship fund, which will be used for students who will be the first in their family to attend college.

Sounds like he's already giving back.

Coach Saban is planning on having at least most of his staff in place by Thursday to greet recruits coming in this weekend for official visits. More on the assistants as we get word.

Tuesday, January 09, 2007
@

LSU (11-3, 0-0) at Alabama (13-2, 0-1)

TIME: 8pm CST
TV: ESPN2
PLACE: Coleman Coliseum in Tuscaloosa, AL

So, after my awful prediction in the last game, I have no choice but to take a stab at this game.

LSU just came off of a thumping of UConn this past Saturday night. They were hitting on all cylinders. Alabama just got thumped by Arkansas on the road.

One could only assume that LSU wasted their energy on beating the Huskies, and Alabama was saving theirs to dismantle the Tigers. Alabama simply didn't show up to play in the last game, but with the talent that they have in the starting five, there's absolutely no reason why they shouldn't pull out a big time national tv game at home against your biggest division rival.

Prediction: Alabama 75 LSU 70

I mean, seriously...I get all my hopes up and whatnot, and then read about the possibility of hiring Joe Pendry? The Tuscaloosa News, who has easily been the most reliable newspaper regarding this story to date, reported that this morning. Pendry was most recently the offensive line coach and offensive coordinator for the Houston Texans in 2005 -- yes, the team that went 2-14. Yes, that team. He is now out of football, living in Indiana, hangin out...you know.

Then, of course, the Birmingham News is still talking about Major Applewhite and Tom Clements. Not sure what's up with Louisville's staff either.

I did hear Jimmy Sexton on Sportstime here in Memphis this morning around 8:30, and he said that Coach Saban already has 6 coaches hired, and will be bringing in probably 5 more. He said the remaining ones will be BIG names, and that they can all recruit...said that's the biggest priority -- recruiting. Can't win big time games without big time players, according to him. Sexton said that he would expect an announcement by Thursday on the coaching staff.

Monday, January 08, 2007
First off, congrats to the Florida Gators for proving, once and for all, that the SEC is, by far, the best conference in the country. I believe a 6-3 bowl record will solidify that, along with the National Title. Orson at EDSBS.com is probably the happiest man alive right now. I can't wait to see all of his blogs over the next week or two.

Next, congrats to Chris Leak for proving to be FLAWLESS. Gator fans have hated him for quite some time...and for what, I'm not sure. He's looked bad in some games, but remember this -- his coach for the first two years was Ron Zook. He was learning how to LOSE. Luckily for him, Urban Meyer knows how to change that mindset. Hopefully Saban will know how to change that mindset for Alabama's players.

The game was an all around ass whipping. I knew after Ohio State's first offensive possession that it was over. I called my father and told him "this game's going to be a blowout" when it was still 7-7. It was incredibly obvious that Ohio State had not seen anything like an SEC caliber defense, and Florida's defensive line was able to get pressure with their down four the entire night. The secondary had a field day, especially since Ted Ginn, Jr. got injured early on (although I don't think he could have changed the outcome).

Anyway, once the game got to be 27-14, I began thinking about all of this playoff crap that the talking heads have been spewing out for the longest time, and I thought about the possibility of Boise State winning the national title. It would never, ever happen. But, to appease all of the idiots, it would be nice to at least give Boise a fair shot...so I have come up with 4 different playoff scenarios, along with the teams that would have been in each playoff according to this year's bcs rankings. I am also including how those teams would have been selected. Tell me in the comments section which one you would enjoy the most.




The BCS Rankings playoff would consist of the top 8 teams in the BCS final poll only. There would be no limit as to how many teams from each conference, no worrying about conference champions, etc. It would basically be a smaller version of the March Madness NCAA basketball tournament.
The Conference Champions system is the way that most people could see it going, with being an even eight team playoff. You take the BCS conference champions and seed them according to their rank in the final BCS poll. Then you take the two highest ranked at-large teams (either non bcs schools or schools that didn't win their conference) and seed them in the 7 and 8 positions, according to their final rankings (in this case, Michigan was 3, so they'd be 7th, and LSU was 4th, so they'd be 8th).
The Plus One system is the one that most people are talking about. It would be the easiest, by far, but coming up with the final four teams would be incredibly difficult. I would assume it would just be the top four teams in the final ranking, with no clauses regarding conference champs, etc.
Finally, my favorite. The 10 team playoff is designed exactly like the current BCS. The six BCS conference champions get the top 6 seeds, and will be seeded according to rank in the final BCS poll. No conference is allowed more than two teams into the playoffs, and the at-large teams must play a "wild card game" to enter the field of 8. Non BCS teams can be included, but don't have to be. No rules like the "if they're in the top #, blah blah" crap. This will simply place the 10 best teams in the country on a level playing field.





So, everyone take a few moments, figure out which one you like best, or if you like the idea of a playoff at all, and post in the comments section what you think. I'd like to hear what you've got to say. I have opened anonymous comments on this one, but if it gets too stupid or pointless, I'll delete the comments.


Everybody and their mama is going to be watching this game tonight, and so will I. I suppose I should tell everyone what I think will happen.

I think that Florida will do everything it takes to win this football game...and then Chris Leak and the offense will just straight up give the ballgame away. Fumble, interception, penalties...something to screw everything up. Ohio State is incredibly disciplined. Florida is not.

Know who's got the most penalties in division I-A this year?

Akron. But Florida's #2. And it's gonna cost em this game, I think. If it doesn't...well, kudos to Urban Meyer for fixing the problem.


Alabama basketball hit a big time low on Saturday, falling 88-61 at rival Arkansas. I've honestly never seen this team play that poorly. Arkansas has a good team. I'm not sure if they're not better now that Ronnie Brewer has gone pro. Anyway, the basketball team is now 13-2 and has fallen from the top 10 for the 2nd time this year, only this time it may be a little more difficult to jump back up there.

One could only assume that the events surrounding Coach Saban coming to Tuscaloosa last week took a toll on the basketball team because they were not prepared to play whatsoever. Or, we can blame it on the fact that they're playing LSU on Tuesday night in a nationally televised ESPN game. Let's hope so.

Ronald Steele had four turnovers against Arkansas, and, while it wasn't much, it was still enough to ruin his rhythm and show that he's still not quite up to what he should be. Injuries suck, but they're a part of life.

I'm telling you guys...stick with this team. They're relentless and they know what it takes to win, even though they didn't show it on Saturday. Tomorrow night's a new season, so go to the game...and if you can't do that, tune in and cheer them on ESPN.

According to The Birmingham News, Coach Saban has hired Todd Alles, a program assistant at Ohio State, for the position of director of football operations. He has been with Coach Tressell for the last two seasons and will take over for Randy Ross.

Word is that Alabama has also rescinded its offer to Jimbo Fisher, who is apparently having trouble deciding what he wants to do next season (many believe he is waiting for either the Louisville head coaching job or the Georgia Tech head coaching job).

Next on the list is the possibility of three current Louisville offensive assistants joining the staff, according to The Tuscaloosa News. We can thank FlightAware.com for showing us that the University plane has made a trip to Louisville, KY lately. One would only assume for assistant coaches. Paul Petrino is a candidate to take over as offensive coordinator, while Mike Summers could be headed here to coach the offensive line. The third possibility is coach Todd Brohm for quarterbacks coach.

Saban contacted Lane Kiffin, USC's co-offensive coordinator, on Friday according to the Los Angeles Times. It is very unlikely that he'll be joining the staff.


On a side note...is anybody else still as happy as I am? This coach is just about as professional as they come. He works hard and doesn't put up with any crap. He sets rules and abides by them.

Also, Saban will not attend the American Football Coaches Association convention in San Antonio, Texas because he's working on recruiting and assembling a staff. Mal Moore will not be attending the National Championship game and the College Football banquet so that he can assist Coach Saban with whatever he needs during this time.

You've gotta love that.

I always thought the LSU rivalry was relatively friendly. I find myself rooting for them whenever we're not playing them because I enjoy their style of play. They're incredibly disciplined and know what it takes to win ball games (good defense, good running game). They win in the trenches...it's fun to watch.

However, this message board, along with many others, are beginning to make me question the whole thing. When Spurrier went to South Carolina, most Florida fans were ok with it. Now that Saban is coaching Alabama, most LSU fans have shown their true colors (yellow...which oddly seems to go well with corndogs) and are coming off as classless losers. I'm sure that, had you offered the job to Coach Saban and fired Les Miles, he would have gone back to Baton Rouge. But they didn't. They already have a coach that's gone 22-4 in his two seasons there.

Oh well. I guess they can see the writing on the wall. Haha.

Sunday, January 07, 2007

I'll tell ya what, I'm not going to miss seeing this guy kill us AT ALL next year.

According to ESPN.com, JaMarcus is going pro. Kiper says he'll probably go first to the Raiders to help their vertical passing game. I think Russell could crush Randy Moss. Haha.


Well, I'm not sure how I could have missed this yesterday, but, thanks to Hack over at Journalism is for Rockstars, we now have a link with confirmation.

According to the Tallahassee Democrat, Florida State has rescinded its offer to Jimbo Fisher.

"Florida State will move forward to pursue other options among a number of outstanding coaches who want to share in FSU's traditions and values," Bobby Bowden said in a release. "Coach Fisher will be a benefit to whatever organization he ends up with and we will secure the best coach available to lead our offense."

So does this mean we get Jimbo? For some reason, I doubt it. I think that he's waiting to see what happens with the Georgia Tech job now that Chan Gailey looks like a candidate for the Dolphins head job.

Alabama has contacted Rice offensive coordinator Major Applewhite, according to the Houston Chronicle. He is interested in the position, but we haven't offered him the job yet.

So far, I'm hearing that Kirby Smart has signed on to coach defensive backs, and Bobby Williams will be the new running backs coach. Both were with him in Miami. That puts the staff so far as follows:

Kevin Steele - Defensive Coordinator
Lance Thompson - TBD
Kirby Smart - Defensive backs
Bobby Williams - Running backs

Searles left LSU for Georgia. I have a feeling we can do better than him. I have heard Steve Marshall's (from the Houston Texans) name thrown out for the offensive line coaching position.

Travis Jones, the Dolphins' defensive line coach, is a candidate to take that position at Alabama. Another possibility is Todd Stroud, who was the assistant head coach and defensive line coach at North Carolina State. He coached under Terry Bowden at Samford for 8 years, then followed him to Auburn for one year before leaving.

Mississippi State running backs coach Shane Beamer has interviewed for the special teams position.

Reference The Mobile Press Register and the The Birmingham News for more about how Saban's already working hard and is building his coaching roster.

As far as recruiting goes...if you want to see an immediate impact, how about the fact that Alabama wasn't even a remote interest to #1 nationally ranked running back / athlete Joe McKnight, but now he wants to come visit and talk to Coach Saban. He says Alabama's high on his list now. THAT is an immediate impact.

Also, for the ground rules that Nick has already laid out -- The Montgomery Advertiser is saying that Saban has told them, effective immediately, the media cannot speak to freshmen or assistant coaches. He said the University needs "one voice" right now, and that he will be that voice.

Saturday, January 06, 2007 I'm not sure if anyone has noticed the new webstore that's over on the right side of the page here, so if you haven't, it's there. I'm going to post our new shirts to show you what we've got over there (click on the shirt if you would like to go to the order page). Some of you might dig it, some of you might not. Either way, I find them entertaining and hopefully you will too.

"I knew..." t-shirt


Displays "I knew he was going to be the new coach the whole time" on the front. No back.


"Attention SEC" t-shirt


Displays "Attention: SEC" on the front. Displays "You are officially on notice" on the back.


"I HATE TIGERS" t-shirt


Displays "I HATE TIGERS" on the front. No image on the back.


"Memphis Tider" hoodie


Displays "Memphis Tider" logo on the front. No image on the back.


"I HATE TIGERS" hoodie


Displays "I HATE TIGERS" on the front. No image on the back.


"hey miami" shirt - 2 SIDES


Displays "hey miami" on the front. Displays "stop whining" on the back.


"hey tubby" shirt - 2 SIDES


Displays "hey tubby" on the front. Displays "stick that thumb up your ass cause WE'RE BACK!" on the back.


"hey lsu" shirt - 2 SIDES


Displays "hey lsu" on the front. Displays "you smell like corndogs" on the back.


"I HATE AUBURN" t-shirt


Displays "I HATE AUBURN" on the front. No image on the back.



"I HATE TENNESSEE" t-shirt


Displays "I HATE TENNESSEE" on the front. No image on the back.


"I HATE FLORIDA" t-shirt


Displays "I HATE FLORIDA" on the front. No image on the back.


"I HATE LSU" t-shirt


Displays "I HATE LSU" on the front. No image on the back.


"Memphis Tider" t-shirt


Displays "Memphis Tider" logo on the front. No image on the back.



Like I said...just click on the shirt that you want and it will take you to the order page. Roll Tide!