Thursday, December 31, 2009 Oh yeah, and happy new year, blah blah blah.


We are 7 days away from the biggest game for the University of Alabama in the last 17 years.

Wow.

I'm getting a bit antsy. Can't you tell?



1. Texas Tech is a school of fools

The players are bashing the coach, the administration is bashing him. And we all know how this will end. Leach will win his lawsuit, will get a job somewhere else after next season, and Texas Tech will forever return to the craphole that they were in before he got there. I'm tellin ya, if some kid had shown up to Coach Saban's practice with sunglasses on, talking shit to everyone, he would've ended up behind the woodshed, not in it.


2. Pete Carroll on broadcast for National Championship game?

Is this really happening? I've heard a lot of rumors in the last few days about this. Do we really have to have that weasel on the broadcast so all we hear is Herbie kissing his ass for however long he's on? Jeez Louise.


3. Flu bug hits again

I don't think it's that bad this time around. This is a small strain of the virus and it has more to do with the weather, etc, than anything else. Drew Davis and James Carpenter have already missed a little time with it, but they're both back and are apparently playing well in practices. I think we should be fine. The only injury concerns we have at the moment are Marquis Johnson's fractured thumb. He's got a cast on it right now, but he should be fine.


4. Idaho vs Bowling Green

One of the better ping pong matches I've watched in a while. Robb Akey, Idaho's coach, is a gutsy fella. Bowling Green scores a deep touchdown pass with 30+ seconds left. Then Idaho throws a deep pass and then hits a TD on a slant pattern with :04 left, and then, rather than go for the tie and the overtime, elects to go for two, converts, and wins the game. Unbelievable to watch.


5. LOTS and LOTS of football next two days

I'm really interested to see Tennessee and Virginia Tech tonight, then we'll see what Florida, Auburn, and LSU are made of tomorrow. Arkansas and Ole Miss get to show off on the 2nd. I'm down with it. A whole weekend of football? Diggit.

Saturday, December 26, 2009 Before I get to the classy part, this is the first thing that popped into my head, and if you're an Alabama fan, I'm sure you thought the same thing.




Urban finally lost a big game, and couldn't handle it.

Trust me, I understand that he needed to spend more time with his family, etc, but there's something very fishy with this story. Something's just not right. A 45 year old man doesn't resign to spend more time with his family. Especially one that's as successful as Coach Meyer.

WKMG in Orlando is reporting that Coach Meyer had a heart attack in the middle of the year, and was admitted to the hospital in Gainesville again after the SEC Championship game for chest pains. The school released that he was treated for dehydration, but there were rumblings from everywhere that it was much more serious than that.

He was as good a coach as anyone could ever imagine, and I would hope that he'll get everything situated and return to coaching soon. He's a fierce competitor and I enjoyed being able to play against his teams the last two seasons in the championship game, and I was especially looking forward to seeing him back in Bryant Denny Stadium next year. Only 5 years in, he became a victim of the monster. If he couldn't handle the pressure at Florida, just imagine how bad it would have been at Notre Dame.

To read more about it, check out CBSSports.com's article.


We wish Coach Meyer and his family the best, and we hope for his good health and one day a return to college football.

Wednesday, December 23, 2009 If we weren't motivated to hate those orange-wearing bastards before, we are now.


Monday, December 21, 2009


1. Nick Saban is in the doghouse

Y'know. I've gotta admit that I absolutely LOVE having a coach that is so completely dedicated to this football team that he forgets his own anniversary. In the presser after practice he seemed a lil hellbent. So when he's in the doghouse at home, you better believe the players are feeling the impact of it. Focus, my friends.

Shoulda gotten married after spring practice, Coach. Haha.


2. Steelers beat the Packers

Wow. I can't even begin to describe this game. Normally, I hate ping pong matches, but this was just downright entertaining. Two of the best QBs in the league flingin it around, and Big Ben hit Mike Wallace for the big play with no time left on the clock to win. Now THAT's what December football in the NFL is supposed to be about.


3. Alabama basketball ain't there yet

Not yet. Kansas St was tougher, bigger, and just all around better. They scrapped and fought and hit their shots, and made us work harder for ours, etc. They outplayed the Tide in every aspect of the game. Just goes to show that Coach Grant and this team have a long way to go before we'll be back to the Big Dance.


4. Back to practice

First, congratulations for everyone, then it's back to reality for the Tide football team. The game is getting ever closer, and the players realize it's time to get back into gear. Mike Johnson and Greg McElroy both feel like everybody's hungry and ready to win a national championship. I'm feelin good about it right now.


5. Players beginning to file early

The first player that we've heard that has filed to see his NFL Draft status is Kareem Jackson, and, according to nfldraftscout.com, he's projected to be a 2nd or 3rd round pick. Honestly, it might not be a bad time to go, y'know? If he can be drafted that high, and if we win a national title, going out on top would be the best way to do it. Of course, that'd put us in a hole in the secondary big time. 4 of our top 5 DBs would be leaving after this season. We'll see how it plays out. For now, let's hope they're all staying focused.

Thursday, December 17, 2009 I'm so ready for Christmas to get here. I've got all my shopping done. Now I'm just waiting.

I even bought myself a present. UFC Undisputed for PS3. Diggit. Should be in the mail soon. Haha.



1. Bama basketball handles Samford

Mr. Green led Bama to a 60-45 win over Samford last night in a game that felt more like a scrimmage than a real game. Everyone mainly worked on fundamentals and shooting the ball well. It worked perfectly. Lots of minutes for everyone. Good game to help build up to Saturday's game in Mobile against Kansas St.


2. Irvin takes Memphis running backs job

Sedrick Irvin, an assistant running backs coach at UA who joined Saban's staff after last season, has taken the position of Running Backs coach at the University of Memphis. Sedrick was one of those that Mark Ingram thanked in his Heisman speech. We're happy for him to get this opportunity. Looks like Larry Porter is going after winners for his staff. Read more here.


3. Chris Henry from the Bengals has died

Sad day in the NFL. Chris Henry, from Cincinnati, has died after a domestic disturbance yesterday. Apparently his wife raced off in a pick-up truck, but he had jumped in the back of the truck. When the incident escalated, he somehow fell out of the back of the truck, suffering serious injuries which ultimately led to his death this morning. Sucks.


4. Conference re-alignments?

The Big 10 wants to add a 12th member. Candidates are currently a few teams from the Big East or the Big 12. Iowa St is a good fit, but so are Pittsburgh, Louisville, and Cincinnati. If I had to wager, I'd bet on Louisville, because the Big 10 would like to move into the Kentucky market that the SEC has had a hold on for a while. If they were to bring in the others, exactly what would be the point. You're looking to expand your market, right? It'd be like if the SEC brought in Memphis. They've already got a stranglehold on the market. It doesn't make any sense. I'm guessing they take Louisville, and then the Big East take Memphis. Just a guess.


5. NationalChamps.net 2010 preseason #1

We're officially the early bird preseason #1 at NationalChamps.net. I can dig this. Looking at what we have coming back, it's going to be a fun year. Definitely.

Tuesday, December 15, 2009 Awww yeah. It's been a good few weeks in Bama land. It feels like I'm in a dream or something.


1. Mark Ingram was on the Dan Patrick Show

Good job, Mark. Here's the link to the interview. He's such a well-spoken genuine young man. It's refreshing to have a kid like him representing the University.


2. Turner Gill is in at Kansas

I can't believe I haven't talked about this yet. Does Turner Gill turn Kansas back around into competing for Big 12 titles? Somehow, I doubt it. I honestly think that Mangino is a better x's and o's coach, but I think Gill will get the players that Mangino couldn't get. Regardless, it'll definitely be interesting to watch. I think he'll have them at 6-6 or 7-5 every year with a bowl game, but nothing too big.


3. Finebaum says Auburn has picked up...

But that they're still not any closer to Alabama than they were a year ago. Diggit.


4. Defensive Coordinators are a hot commodity

Georgia can't find one to save their lives, or so it seems. From what I'm hearing, they've talked to a LOT of guys, and none of them have been really interested. Bud Foster is the only official that I've heard, but I've also heard Kirby Smart, Tyrone Nix, and Vic Koenning, and none of them are even the slightest bit intrigued. Word is that nobody wants to jump on board a sinking ship, which is pretty much what Georgia is viewed as right now.


5. Alabama led the country with 6 first team AP All-Americans

Wow. That's a crazy number, right? 6 first teamers. Incredible accomplishment. Mark Ingram was a unanimous selection. Also on the first team were Mike Johnson, Leigh Tiffin, Rolo McClain, Terrence Cody, and Javier Arenas. Mark Barron earned third-team. Diggit.

Sunday, December 13, 2009 Feb 5th, 2008:






Dec 12th, 2009:






Congratulations, Mark Ingram, and thank you for bringing home the University of Alabama's first ever Heisman Trophy.





You've got until 8pm CST tonight to celebrate. Then back to thinking about Texas. Haha. :-)

Saturday, December 12, 2009 I've been following this Tennessee recruiting stuff over the past couple of days, and when the picture came out with the two so-called "hostesses" at the game with the two recruits, holding that sign up, I realized that I recognized the girl. I had seen her in recruiting pics before.




Then it hit me.


Lacey + Bryce = Bracey - she's apparently Bryce Brown's girlfriend




"Bryce Brown's girlfriend Lacy Earps is a Jr. at UT, and would love
nothing more than to watch her boyfriend play on Saturday's without
having to fly to Miami or Oregon. How serious this "romance" is I
can't say, but if her Facebook profile picture is any indication of
how interwoven this romance is, Brown may be running through the "T"
this fall.

Lacey + Bryce = Bracey? This relationship must be serious, right?..."


"But how serious can girlfriends be? Just ask David Oku, who moved to
Nebraska to be with his girlfriend. The verdict on that case still
remains to be seen.

So, whatever your opinion is on the matter, it's fun to speculate what
could possibly be in the works.

I for one believe Bryce Brown will be a Vol for a number of reasons.
He know's he'll have a chance to play immediately, and will embrace
the opportunity to showcase his talent in front of 107,000 + fans.
Not to mention the television exposure he'll have throughout the
season. Oh, and of course having his lady on campus can't hurt
either."


Ok, first off, she's the captain of Orange Pride, which is the group of chicks that host recruits on campus. Next, while Bryce Brown was a senior in high school, his supposed girlfriend was a Junior at UT? Explain this one to me. A 21-year old white upper class trash chick, that lives in Knoxville, TN, dating a 17 or 18 year old black high school senior from Kansas, who just happens to be the #1 recruit in the country. Who, magically, after months of narrowing schools down to Miami, Oregon, and Kansas St, decides to go play for Tennessee. Pretty much out of nowhere. Hmmm. Smell somethin fishy yet?

So, she's out checking out other recruits, 200 miles away from campus, while her boyfriend, Bryce, is chillin at home in Knoxvegas, right? I'd be very interested to find out who paid for those hotel rooms.

Now, excuse me if I'm wrong here, but the argument that a lot of fans are making by saying that she is not a representative of the school, and didn't realize what she was doing, doesn't really hold up well when there are pictures of her on the field at UT football games. I would assume anyone allowed on the field would be given credentials by either the University or the coaching staff, right? Players families and/or girlfriends are not just allowed on the field. Something REALLY stinks here.






I'm totally jumping to conclusions, but I can do that because I'm just a blogger. It really looks like Tennessee is running a brothel. Check out the comments by Keith Easterwood, a Memphis basketball AAU guy that just so happened to have a son that was a fairly high level recruit last year. These appeared in yesterday's New York Times article.


"Also on Friday, Keith Easterwood, a veteran summer basketball coach, said that on a visit last year with his son, a football recruit, he had to ask a hostess to stop brushing her breasts against both him and his son.

He recalled saying, "Young lady, if you don't stop doing that, we've got a problem."

Easterwood said that he took a group of basketball players to a Western Kentucky football game at Tennessee this year, and that the presence of the hostesses had his players "literally reduced to blubbering idiots."

"I've been up there five times, four for football and one basketball visit," Easterwood said. "My observation is that this is a very organized operation. These girls have obviously been groomed. There's a lot of eye contact and touching."




I gotta admit. I'm having a damn blast with this stuff. I'm sure a ton more will come out of this. We'll have to just watch and see.





Oh yeah. StiffArmTrophy.com, who has correctly predicted the last 7 heisman winners, and their margin of victory, etc, is predicting that Mark Ingram will win tonight in a close race. So tune in at 7pm CST on ESPN. Should be interesting. Immediately following that, change it over to ESPN2 and watch Anthony Grant's Tide Basketball team take on #5 Purdue. Should be a helluva game.

Friday, December 11, 2009 Let's first start out with this:



thanks to our buds at RollBamaRoll.com



That's the SEC graduation rate, which, as you can see, has Alabama at #3 in the conference behind Vanderbilt and Florida. Tennessee is now tied for #12, also known as DEAD FREAKING LAST in the conference, along with Arkansas.

Clay is talking crap about the University of Alabama breaking classes from Jan 6th through Jan 8th for students and faculty that would like to make the trip to Pasadena for the national championship game. His article can be found at http://ncaafootball.fanhouse.com/2009/12/10/alabama-shows-complete-lack-of-class.

Had he done even a little bit of research, he would have realized that the University of Tennessee doesn't even begin classes until Wed, Jan 13th for the 2010 spring semester. Final exams are taken from May 4th through May 11th. That information can be found at this location - http://registrar.tennessee.edu/academic_calendar/0910_acad_cal.shtml.

Meanwhile, The University of Alabama begins classes on Tues, Jan 5th for the 2010 spring semester, according to http://registrar.ua.edu/calendar/spring_2010.html. Final exams are taken from May 3rd through May 7th. So they're missing 3 days of classes, which, in reality, would only be one to two classes at the most for ALL students, while UT doesn't even begin their classes until 9 days later.


Clay. Brotha. Do some research, you hypocritical in-breeder.

Wow. That was definitely unexpected. Jenn Brown looked great, as usual. All the more reason to believe that Erin Andrews will soon be out of a job. Haha. Who would you put your money on as the sideline reporter for the National Championship game?


1. Alabama almost completely shutout at ESPN Award Show...

#1 in the country. #1 defense. Heisman finalist. And we get one award? Rolando McClain won the Butkus. That's it. Wow. Talk about some more motivation that Saban can throw at the team, as if they needed anymore. Still no respect. Colt McCoy, Texas QB, won the Walter Camp, Maxwell, Davey O'Brien, and the Johnny Unitas award. Suh won 4 awards as well. Brian Kelly won Coach of the Year, Gerhart won the Doak Walker award, and Kai Forbath from UCLA won the Lou Groza. Yup.


2. Hey, Gambling advocates... STFU!

Talk about ridiculous. The governors do this crap every year. And yet, now that Alabama has won, and the people in the state that are advocates for the electronic bingo halls have a lil bit of ammunition, they're making a story of out of something that doesn't matter. Gov. Riley - take the damn oranges.


3. College Football playoffs --

More ridiculousness this morning. CBSSports.com has drawn up a 64-team football playoff. Yeah. 64 teams. You can vote for who you think would win each matchup by clicking the link above. Bama is the #1 overall seed, facing what would appear to be the #64 team - Florida St. Good opening matchup, for a fairy tale, anyway.


4. Brian Kelly is officially the new Notre Dame coach

Kelly is the guy. Count me as one of the many that believes he will be able to win there for a long time. Of course, I also thought Rich Rod would be a winner at Michigan. Shows how much I know. This hiring just seems to fit really well. Like, reeeally well. Kelly is Irish Catholic, and a guy that's always lingered around the midwest for his entire coaching career. If he can't recruit to Notre Dame, after what he was able to do at Central Michigan and Cinci, then it's only because Notre Dame just absolutely is not what it used to be. Kelly develops talent with the best of them. I would expect a quick turnaround because there definitely is talent on that roster.


5. Memphis hires Mike DuBose

FootballScoop.com has learned that Memphis has hired Mike DuBose as their defensive line coach. Interesting fit there. Talk about a fall. Alabama head coach to high school coach, to Milsaps head coach, to Memphis defensive line coach. Man. We all wish him well though. In the end, he is still one of Bear's boys.

Thursday, December 10, 2009 Interesting read. Thought you guys might be interested. Does the SEC and NCAA have a double standard when it comes to different coaches? click here for the article.

Wednesday, December 09, 2009 hahahaha.

"There's no truth to the rumor that ... The janitors around the Alabama practice facilities have had to work overtime mopping up all of Terrence Cody's drool after he watched games tapes of the Big 12 Championship.

That lil tidbit brought to you by CFN.

Dimeday was yesterday. Had a good practice. We always seem to do things well on the day when we remember Dimebag Darrell. Word.


1. NCAA looking into Tennessee recruiting tactics

Lane. C'mon man. Read the damn rule book. The New York Times is reporting about the NCAA looking into your program for your use of hostesses. It doesn't go into a LOT of detail, but I wouldn't be surprised to learn some that some of the things that were going on were INCREDIBLY inappropriate. Does this bring up some memories of Colorado's recruiting tactics back a few years ago? Yikes.


2. Charlie Strong is Louisville's new coach

I'm curious how this is going to play out. The Big East is a big time offensive league. Will Strong's defenses live up to the billing and be able to stop the Cincis and West Virginias? This is a very interesting hire. Read more here.


3. Coaches leaving Tennessee...

Tennessee has already lost their running backs coach to Florida State and their wide receivers coach to LSU. Now I'm hearing they're losing Lance Thompson to Louisville. There will be others, from what I understand. This is a HUGE deal. If this goes through, they will have lost their recruiting connections to Florida, Louisiana, and the Mobile area all in a matter of days. We'll have to see what happens with this one. This could be big.


4. So Notre Dame has picked Brian Kelly...

I've heard some not-so-good things about Brian Kelly. I'd be a lil hesitant to make him my coach. Alas, ND didn't feel that way. Read more here.


5. Awards are everywhere...

I'll post a full list soon, but the Tide is racking up the awards this offseason. Coach Saban won the Amos Alonzo Stag award for best coach, Kirby Smart won the Frank Broyles award, McClain got the Butkus award, we had 10 players on the AP All-SEC team, we had the AP SEC Coach of the year and the Offensive and Defensive Players of the Year. And they keep coming in. Ingram may very well win the Heisman, and there's a ton of other awards coming up too. What a fun year. And it's not even close to being over yet.

Tuesday, December 08, 2009 1. Finebaum tells us who else Saban should have thanked

Alabama fans should be thanking all sorts of people. Rich Rod, Tim Tebow, etc. Read the article here. There's a lot to be said for this because if Tebow does come to Alabama, Shula is still here, going 9-3 every year with no sniff of a championship. Take a look at Michigan and imagine how badly he would have done here at Alabama, where the defenses play MUCH faster than they do in the Big 10. There's just a ton of things to look back at, and, in the end, all has worked out to perfection.



2. Rolo wins the Butkus Award

It hasn't been "officially" announced yet, but Dick Butkus is in Tuscaloosa, which would only mean that Rolo has won the award. That's BIG news.



3. The University has canceled all classes from Jan 6th - Jan 8th

At Alabama we don't just play football. We live it. Well, if you wanted proof, how about an entire school canceling classes for 3 days for a game. I don't know that I've EVER seen this happen. I'm sure the national media will be all over this, probably negatively (because they hate us, of course), but I think it's a genious move by the University. This is the biggest thing that's happened to the state in 17 years.



4. Heisman Trophy talk

The two most well known Heisman Trophy sites (HeismanPundit.com and StiffArmTrophy.com) both currently have Mark Ingram as the leader at this point after doing a bunch of updates and trying to see how many people are voting for certain individuals. At this point, it appears that it's down to Toby Gerhart and Mark Ingram. I'll take that matchup.



5. Sports Illustrated again

Anybody down for one more Sports Illustrated cover? I'd like to get one more for the week after Jan 7th...


Monday, December 07, 2009


Ohhh yeah. I feel incredible. It's just been an unreal couple of days. I've gone back and watched the game 4 times all the way through already. Unbelievable.


1. Alabama vs Texas

It is officially time for some payback. We're 0-7-1 against Texas all time. That's right. We've never beaten the Longhorns. Time to cure that. Thursday, Jan 7th at 7pm on ABC.



2. Florida is tasting Sugar right now

And sugar never tasted so sour. That was us last year. So now you know how it feels. Kinda sucks for the Sugar Bowl. They've been relegated to a consolation prize for two straight years. I'm sure they can't WAIT until they get to host the championship game again. Haha.



3. Alabama opened as a 4 point favorite

Of course they did. Because we demolished what was supposed to be the best team in the country, and they needed a replay to put one second back on the clock to win by 1 point over a team that lost at home to Iowa State 9-7 a few weeks ago.

I've watched Texas a few times this year - against Texas Tech, Oklahoma, Texas A&M, and Nebraska. I feel reeeeally good about this matchup. If our defense shows up and doesn't come out lackadaisical, like they did against Auburn, then we can own this game the same way we owned the SEC Championship game. If we come out thinking we're better, not playing with a lil bit of a chip on our shoulder, then it will be another tight ballgame, or maybe even another Utah type of game. You don't want to get so far behind that it takes you out of your gameplan, or that it gives the other team enough confidence late in the ballgame to allow them to hang with you.



4. No "Andre Smith" moments this year...

We're about to play in the BCS National Championship game. Pray that nobody on this team is dumb enough, or selfish enough, to do what Smitty did last year. No funny business before this game. National Championships are hard enough to win with ALL of your players.



5. Heisman talk? Does it matter?

Does it really matter if Mark wins the Heisman Trophy this Saturday? In the past, the distractions have hurt QBs. What are we going to do if the distractions get to our running back? Easy - we'll put in Trent Richardson. Simple enough, right? It would be nice to actually have a Heisman, but at the same time, I don't want one. I want to give it to Colt, and then let us squash another Heisman winner. Already squashed Timmy Tebow. We squashed Gino back in '92. I wanna squash another one.







This is gonna be a fun month, my friends.

Sunday, December 06, 2009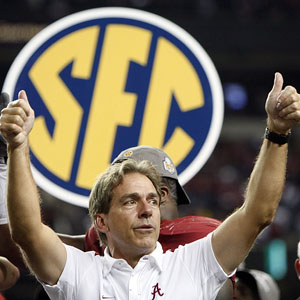 I smoked a victory cigar with my dad tonight.

This moment was 17 years in the making. That moment when you knew you're going to play for all the marbles. No more having to listen to bitter fans of other schools give you the "gator chomp" or whatever the hell the other Florida cheers were. Nobody can say anything at this point. The Tide has won 26 of their last 28 games. Eat that.



I'll post more later, but at this exact moment, I going to lay back down and watch the game for a 3rd time.

Friday, December 04, 2009 Chomp chomp chomp. Haha. Gata Bait, right?





Found this over at TideSports. Very interesting, to say the least.





His son's already on the staff, and he and Saban are good friends. Is it possible that, if we lose a defensive assistant, we've already got the replacement lined up?



1. Ducks handle Beavers.

Oregon had just as clutch a drive as we did because you just knew that, if they had given Oregon St the ball back at the end of the game, they were going to score. It just had that kind of feel. Chip Kelly went for it at least twice (that I remember) on 4th down on that drive, and picked them up. They kept the ball for the last 4 minutes of the game, never giving Mike Riley's team another shot to score. Great ballgame, and one helluva coaching matchup. That game's gonna be some kinda fun to watch for a looong time.



2. Pacquiao vs Mayweather looks like a go

AP reports are saying the fight's a go. I can diggit. These two guys are incredible fighters. I actually enjoy watching boxing when they fight because they do it right. They actually know what they're trying to accomplish when they get in the ring, unlike about 90% of the boxers out there today. So March 13th is the date. Lets see if UFC tries to do a pay-per-view that night. They've been known to do things like that. In this case, I think boxing would win out.



3. Florida is going through the "Year of the Weird"

I'll admit. Dodd's got a good story here. It has been an incredibly odd season for Florida. I'm not sure if a lot of the stuff would have gotten as much spin in other places if it had been a worse football team without a rockstar at QB, but it's definitely been crazy. So, are the distractions too much for this team to overcome on Saturday? I guess we'll have to wait and find out. They've definitely responded well to adversity.



4. Loss of Hightower is just as big as Dunlap.

Andy Staples, over at SI.com, has a good article about how much better this game would be if Bama and Florida had one more superstar each.

Hightower would be the guy to spy Tim Tebow, according to this. I don't know if that role doesn't go to Rolando McClain or Nico Johnson right now, but it's definitely an interesting read.



5. Bama places 4 on AFCA All-American team...again.

Last year we had 4, and this year we had 4. That makes us just the 3rd team (along with Notre Dame and USC) in history to have 4 players on an All-American team twice. Pretty incredible. Read the article here.





The line is still sitting at 5.5 and 6 in most places. Think it'll move any before kickoff?

Thursday, December 03, 2009 Like I said, I'm loving the idea of 5 things a day...


1. Ducks vs. Beavers for the Rose Bowl

The Civil War, as they call it, is for all the Pac-10 marbles this year. It's always a fun game to watch anyway, but this year is going to be ridiculous. Lots of fun skill players in this one. I expect a ping pong match of epic proportions. Total score probably in the 80 or 90s.

Rivalry games always tend to stick with players for the rest of their lives, but could you imagine having to be on the losing side of this one? Your school's first shot at a Rose Bowl in forever? Wow. Big time stuff goin on here.



2. Hey, Willie Martinez. Holla!

Georgia has let go of Martinez and 2 other defensive assistants. According to the message boards, they're really wanting Kirby Smart. Of course, we're also hearing the Florida State would like his services as well. After Steele made the move last year, I guess anything's possible, especially since Smart is a UGA grad.



3. Dennis Dodd talks about finishing...

Dodd, from CBSSports.com, has a great article up about the Tide finishing the 4th quarter this year. It's a really good read.

Of course, he talks about that, and then predicts Florida to win 21-20. Haha.



4. Conference championship games

Is this the first year that all of the BCS conferences, aside from the Big 10, have had, basically, a championship game on the same weekend?

ACC has Ga Tech vs Clemson, SEC has Alabama vs Florida, Big 12 has Texas vs Nebraska, Big East has Pitt vs Cinci, and Pac 10 has Oregon vs Oregon St. Pretty badass, right?



5. Phil Steele picks Florida. Cool.

Phil Steele has picked Florida to win 23-16. Not sure where his rankings, etc, come from, but I enjoy the role of the underdog. Now let's hope everybody else, including Florida, thinks that too.

Wednesday, December 02, 2009


Ahh yes. Waiting until Wednesday to do the Monday Morning QB? Yup. I think I like the idea of hitting on 5 topics every day. I'll start doing this more regularly.


1. Tony Barnhart looks back at the difference between Jan 2007 and now...

Mr. College Football's latest article tells us all about the difference between Alabama when Saban was first hired, and the present - leading up to their 2nd straight SEC Championship Game appearance. Who thinks it was too much to pay for a football coach now?


2. Carlos Dunlap. You, sir, are an idiot.

My first rule of thumb was to think "don't get too anxious or overly critical, cause I'm sure our guys are out there doing it too." And then this article comes out with possibly my favorite quote ever. Lorenzo Washington said that Alabama players were in bed at 3:30am, and that they act right because "The Boss, he's not with all that". Hahahahahahaha.


3. Ole Miss...c'mon man. That's Houston Nutt for ya...

Handle Tennessee and LSU at home. Then get blasted by Mississippi State, who just got blasted by Arkansas. Give up over 300 yards rushing? 120+ of it to Chris Relf who hardly ever plays? Guys. It's called the option. Just play sound defense and it's easy as hell to defend.

And Jevan Snead. You should be drug out in the street and shot for some of those throws, buddy. At least you've got another year in school to try and fix it. Good lord. And the shots that Dan Mullen was taking at the Rebs were hysterical. We've got a great rivalry in the state of Mississippi again.


4. LSU. Lucky Shits University

If you think that win had anything to do with clock management, you're an idiot. But, I will say this. They played a good game, and didn't quit, which is something some of those boys have been known to do. I personally think they should have lost the game, but, personally, I'm glad they won so they'll keep Lester around for a while. Haha.



5. Charlie Strong rumors are everywhere

Looks like this is finally the year when Charlie will get his chance at a head coaching gig. However, I'm sure he would have loved for it to come after the SEC Championship game. The Louisville message boards are stating that Strong has already agreed, in principle, to a deal with the Cardinals, but now there are rumors that he will be the next head man at Virginia. Regardless, if he's focusing on another job instead the SEC Championship, and his players (i.e. Carlos Dunlap) are out having fun instead of focusing on the task at hand, this could be a weakness that propels Alabama to Pasadena. I suppose we'll just have to see what happens. I'm surprised nobody has started talking about this.






Read this handicapper's view of the game. According to the numbers, Alabama should actually be favored by 3 or 4 points, but are instead an underdog by 6. Hmm. Very interesting, right?