Friday, May 30, 2008 Days 'til Kickoff: 92

92. Man, that was a good year. Gave up 8 touchdowns total that year. Defense scored 4, so, in all, the defense gave up a net of 4 touchdowns the entire season. Yup.

Goin to see comedian Craig Gass tonight at the comedy club here in Memphis. This guy is awesome. His Pacino, Walken, Tracy Morgan, and Gene Simmons impressions are flawless. Seriously. Check him out on youtube.

The women's softball coach, again, choked under pressure. The girls were up 1-0 going into the 7th inning, and promptly intentionally walked the tying run in the first at-bat, then gave up 3 runs total to lose the game in the last inning, 3-1. Now we get to try and fight our way out of the elimination bracket. Read more here.

There's a lil more info about the possible SEC network here. From everything that I've heard from my "sources," ESPN wants to start picking up some of the 11:30 games after this season when then contracts are up. They want to become a bigger part of the SEC's networking, partly because the SEC games on ESPN (which is on basic cable) did better than ABC's primetime broadcasts this year, just because people are more interested in the SEC's games. Ratings mean everything, folks.

Coach Saban talked about wanting the Iron Bowl to return to national prominence. It's been almost a decade since the game meant anything on a national scale, which shouldn't be the case. This should be the game that everybody's interested in seeing, rather than all these other rivalries. Read more about the banquet in Mobile last night here.


COACH STALLINGS: game #21 - Alabama 20 @ LSU 17 - Baton Rouge, LA - 11/9/91

This was Jay Barker's first career start, and boy did he almost blow it. He was 7 of 14 for 81 yards, which shows how conservative the game plan was. The biggest mistake of the night was him throwing an interception late in the 4th quarter at the 45 yard line. Alabama only led 20-17, but after LSU drove down, they attempted a 28-yard field goal, with was blocked by Antonio London to preserve the victory. This was the 7th straight Alabama win, which moved them to 8-1 overall.

Overall Stallings record: 15-6

Thursday, May 29, 2008 Days 'til Kickoff: 93

Yup. Only 93 days. Feels like an eternity. We did find out some interesting news though...

TiderInsider.com is reporting that Alonzo Lawrence has been cleared by the NCAA, which is huge news. I agree with OTS over at RollBamaRoll.com - this kid will start immediately, opposite Kareemawheat. :-)

We also have found out that ESPN has picked up the September 27th matchup between Georgia and Alabama in Athens as one of their 3 premiere SEC games this season. So you can bet it's gonna be a night game between the hedges. Should be a looong day of tailgating.

The SEC coaches voted yesterday 9-3 in support of the conference supporting an early signing date for football. They're in favor of not having to 'babysit' the commitments they get early, so they can spend more time going to get others without other programs sneaking in late to steal them away. Read more here.

Saban's kinda laughing about the trip to Baton Rouge this year. He had a coach tell him that none of the assistants are going to be riding on the bus with him on the way down there. Haha. Read more here.

Fox Sports has ranked the top 10 impact freshmen for next season, and the #1 ranking went to Julio Jones. Check it out.

I used to think Phil Steele was a pretty smart dude. And then, today, he ranked Notre Dame #19 in the country. Bogus.



COACH STALLINGS: game #20 - Miss St 7 @ Alabama 13 - Tuscaloosa, AL - 11/2/91

Alabama was leading late in the ballgame, 13-7, and Mississippi State had just gotten a first down at the Alabama three with less than 3 minutes left in the game. The Bulldogs ran to the 1 on the next play, then were stuffed on 2nd down. On 3rd down, they tried to run again from the 6, and got to the 3 yard line. On 4th down, Sleepy Robinson dropped back to pass and was picked off by Stacy Harrison. That pick sealed the game, and Alabama's 6th straight victory.

Overall Stallings record: 14-6

Wednesday, May 28, 2008 Days 'til Kickoff: 94

Well, I'll go ahead and tell you. I'm a fanatic. Always have been. And once my daughter was able to tell me that her favorite color was red and her favorite animal is an elephant...well, that helped me realize exactly what tattoo I wanted to get.




So, I went last night and had that done. I've wanted an elephant for a long time, and I really liked how this one was drawn out. I've had the design since last September. I'm pretty sure nobody's going to question my fanhood anymore. Haha.


Michael Hicks, a new writer for BleacherReport.com, has posted his ranking of the SEC Coaches. It starts out ok, with Richt and Meyer, and then he loses all credibility by placing Les Miles at #3. Regardless of the rest of it, anybody that has Miles that high in their rankings is an idiot.

A big topic at the SEC Meetings in Destin was Nick Saban's use of video-conferencing. Some coaches called it "ahead of the curve" and others called it "silly." Regardless, it's just another reason why Saban's the best at what he does. Read more here.

The Alabama coaches were in a pretty good mood yesterday when they arrived in Destin, according to Cecil Hurt. Even Gottfried was cheerful, though the latest rumors (even according to his agent) say that this will be his last year in Tuscaloosa.

Ian, and several other reporters, talked to coach Saban about numerous things, including Rolando McClain's motorcycle accident, videoconferencing, and more. Read up here.

Finebaum's article yesterday shed some light on something that not many people have been talking about - motivation. Saban is a big fan of a guy named Kevin Elko, who basically teaches people how to win. That's something this team has needed for 5 years now. They were coached to be losers. What's the saying that Herm Edwards always shouted? Oh yeah - "You play to WIN the game." This guy should help us do that. Read more here.

I was excited at first when I read that NFL.com projected 3 Alabama players going in the NFL draft next season - until I realized one of them was John Parker Wilson. Anybody that thinks this kid will get drafted has got to be smoking something pretty good. Now, that doesn't mean I don't think he can be successful here at the Capstone, but the kid's 6-foot nothin' and weighs 215 lbs soaking wet. He's little, dude.

We have now suffered the first two academic casualties of the class, as mentioned by our boys over at RollBamaRoll.com. Brandon Lewis and Kerry Murphy will both be attending Hargrave Military Academy to try and get their grades up to par. How Murphy didn't qualify after already spending a year there is beyond me. I think we can go ahead and write him off for the future. I couldn't imagine Saban giving him another chance. So, with those two gone, the class is down to 27, and with Melvin Ray and Destin Hood still likely opting to go towards Major League Baseball, that will cut the class to the allotted 25 spots. So, there won't be any greyshirts. Hallelujah.

COACH STALLINGS: game #19 - Tennessee 19 @ Alabama 24 - Birmingham, AL - 10/19/91

This game was a little bit crazy. Dating back to the game in 1990, the Tide and Vols had played 7 touchdown-less quarters before going crazy in the 4th quarter of this game. The Vols led 6-3 before Siran Stacy scored from the one-yard line, giving Bama the lead. The Tide went on to win a thrilling game, 24-19 - the 6th in a row against the Vols, and the 5th straight in 1991 after the loss to Florida.

Overall Stallings record: 13-6

Tuesday, May 27, 2008 Days 'til Kickoff: 95

Jeez. Talk about HATING coming back to work. This sucks. But, at least the new Athlon and Lindy's books are out, so I get to read up a little bit on other teams that I haven't paid a lot of attention to.

Sardis was awesome. If you'd like to read up on a few things that transpired, go check out the band page - myspace.com/prosevere.

The SEC meetings in Destin will be taking place this week, and then I'm sure that Coach Saban will disappear into the sunset, over to Lake Burton for a while, not to be seen again for at least a couple of weeks.

One of the big topics will be re-upping the television contracts with ESPN, CBS, Raycom, etc. There is talk about starting a network just for the SEC, in the same mold as the Big Ten network. Commissioner Mike Slive said the biggest problem with that is the difficulty with distribution for the network. No decisions will be made, but options will be presented to everyone, at least to give them updates.

John Adams, a writer for Scripps Howard, suggests a new scheduling format for the SEC, to make scheduling fair. I'm guessing because he doesn't like how difficult Georgia's schedule is this year, since their three SEC Western Division opponents are Alabama, LSU, and Auburn. I think this guy's off his rocker, but that's just me. Read more here.

Andrew Bone chimes in with how our #1 ranked recruiting class is looking on the qualifying front.

The baseball team had a pretty good showing in the SEC tournament, even with that dreadful game last week that went until 1:54 AM CST (which is ridiculous by any measure). The loss to LSU was a heartbreaker, but hey...they've won 21 straight now (I think). The boys were sent to the Coastal Carolina regional, where they'll open up play against East Carolina. I think we can take em. Read more here.


Since I've missed a few days thanks to vacation, etc, I'll go ahead and post the 4 games we missed in the 1991 Season. After the beatdown to Florida, we started the streak that would take us through 1993. There wasn't much to talk about in these games, as all but the Georgia game, were just complete whippings.

game #15: Georgia 0 @ Alabama 10 - Tuscaloosa, AL - 9/21/91
game #16: Alabama 48 @ Vanderbilt 17 - Nashville, TN - 9/28/91
game #17: UT-Chat 7 @ Alabama 53 - Tuscaloosa, AL - 10/05/91
game #18: Tulane 0 @ Alabama 62 - Birmingham, AL - 10/12/91

Overall Stallings record: 12-6

Friday, May 23, 2008 Days 'til Kickoff: 99


We're under 100 days til kickoff!!!!! Hell yeah!

Sorry for the delay in the blogging. It's been a hellacious few days at work. Hopefully next week will get better. Especially after we've been out fishing at Sardis lake for a few days.

I'll run off the rest of the Stallings games from the past two days whenever I get home tonight. Shouldn't be too long!

Wednesday, May 21, 2008 Days 'til Kickoff: 101

You know that song "Everybody's workin' for the weekend?" Yeah. That's totally me. I countdown the days until it's Friday so I can get out of here for just a few days. Of course, we have Memorial Day on Monday...so make it a 3-day weekend. I'm goin down to Sardis Lake to go fishing for a couple of days this weekend, so that'll make it even better.

Brodie Croyle, man. It's obvious that it's his team in Kansas City. They haven't gone after ANY other qbs. Which means, he's gotta prove it this year. No more injuries. No more losing all 6 of your starts. Just straight up winning. They've got a lot of the pieces they were missing, so now it's up to BC in KC. Read more here.

All of the Mobile crew are qualified to enroll at Alabama early. I think we'll be losing two kids that we thought we had - Destin Hood and Melvin Ray - to Major League Baseball. So that knocks two more kids off the list. The word I'm hearing from Tuscaloosa is that the coaches are not expecting Murphy to qualify again, so that makes three off the list. Read Gentry's article here.

The new spring rule is really bugging the coaches that actually go out there and work, like Wisconsin's Bret Bielema.



COACH STALLINGS: game #14: Alabama at Florida - Gainesville, FL - 9/14/91

Talk about a butt whipping. I'm sure fans were thinking "Man, in the last 3 games, we've been blown out twice - 34-7 by Louisville and 35-0 by Florida." This game was unbelievably excruciating. The Gators forced 5 Alabama turnovers and didn't allow the offense past the Gator 25 yard line. Florida led 6-0 at the half, but Shane Matthews came out firing in the 3rd and threw two touchdown passes to make it 21-0.

Overall Stallings record: 8-6

Tuesday, May 20, 2008 Days 'til Kickoff: 102

Bada friggin bing. I think I have pink eye. Definitely sucks. Probably got it from my kid, who probably got it from someone at day care. Oh well. Haha. I guess it is what it is. Just wash my hands a ton and don't touch my eye.

Had a band meeting last night. We're working on a few things. Head over to our myspace page on Saturday, May 31st for some big time updates.


Caulton Tudor, from the Charlotte Observer, says that Thursday night games are ridiculous because Saturday is the day for college football, just like Friday is for high school, and sunday is for the NFL. Read more of his opinions here. I tend to agree with him...but if I didn't have games every night of the week, I'm not really sure what I would do with my time.

There were some rumblings that Alabama and Hawaii might start up another series. Most people think it won't happen. I agree. Can anybody give me one good reason to do a home-and-home with Hawaii, unless you're on probation?

Andrew Bone thinks Alabama will continue dominating in-state recruiting on the defensive side of the ball. Read up.

Clemson starting linebacker Cortney Vincent has been kicked off the team. That's good news for us, I suppose. Read more here.

Fox has the Alabama / Clemson game in their list of the Top 5 games of 2008. They're saying it may be the only chance anybody has of beating Clemson on their way to a national championship game, and they're saying if Alabama loses, it could be a long year in Tuscaloosa. For some reason, I just don't see either of those playing out that way.


COACH STALLINGS: game #13: Temple at Alabama - Birmingham, AL - 8/1/91

This game was almost a bit ridiculous. Danny Woodson ran 85 yards on the first possession, and Chris Anderson had an Alabama record 96-yard touchdown run. Siran Stacy also came back from his injury in the first game of the 1990 season and ran for one touchdown and also threw a touchdown to Prince Wimbley. The Tide rolled all over Temple in the first meeting between the new Big East conference and the SEC. Final Score: 41-3 Bama.

Overall Stallings record: 8-5

Monday, May 19, 2008 Days 'til Kickoff: 103

I really do hate Mondays. With a passion. Monday is easily the worst day of the week, without question. But...I'll try and make the best of it, as I'm sure you're doing as well.

Terrence Cody has officially qualified, as has Marcel Dareus. Sounds pretty good for the D-Line. The Clemson game just officially got more competitive.

And speaking of the Clemson game - Tony Barnhart is hearing to College Gameday is coming to Atlanta for the Tide and the Tigers on August 30th. They're still apparently slating this as the nightcap on ESPN, which should pick up some pretty high ratings. Nice way to start out a football season.

There's an article about how Jim McElwain's offense is helping the QBs at Alabama. It's a very QB friendly way of doing things. Read more here.

There's even more being talked about with Saban wanting incoming freshmen to enroll early (before the June 3rd period), so they can begin the workout programs, etc. Article is here.

The baseball team is streaking heading into this weekend's SEC tournament. They just won a series at, SEC regular season champs, Georgia by totally dominating from the plate. They won the first game 17-13, and won the last game 16-13. Not too shabby for a team that was picked to finish last in the SEC West in the preseason. We get to play Kentucky in the first round.


COACH STALLINGS: game #12: Alabama vs Louisville - Tempe, AZ - 1/1/91

This was a whipping of epic proportions. Coach Howard Schnellenberger played under Coach Bryant at Alabama, so this game meant a lot to him, and it showed with how his team played. They took a 19-0 lead heading into the 2nd quarter, and were up 25-0 when Jeff Brohm threw a pick-6 that gave us our only points of the game. We ended up getting waxed 34-7. It's still the biggest win in Louisville's history.

Overall Stallings record: 7-5

Saturday, May 17, 2008 Days 'til Kickoff: 105

...cause I get to wake up to my daughter doing crazy stuff like this. Haha.





Friday, May 16, 2008 Days 'til Kickoff: 106

Tyler Love is up to a whopping 305 lbs before he even steps foot on campus. He says it's all muscle too. Jeez. Read more on our new starting right tackle here.

Alonzo Lawrence's ACT score was red flagged because the score jumped too high from his previous attempt. The coaches say he'll be fine because they know he actually took the test. If nothing else, he'll enroll in August instead of June. Read up on it here.

The Pensacola News Journal is predicting Alabama to go 9-3, but finish third in the west. I'm curious exactly how they've got that happening. I guess we shall see.

Congrats to the guys at Roll Bama Roll for acquiring a publisher and getting up the cahones to write a full 112 page book about our beloved Crimson Tide. Should be out in July, or so they say. I'm proud of em, and you can bet I'll be there first day as soon as it's on the shelves.

COACH STALLINGS: game #11: Auburn @ Alabama - Birmingham, AL - 12/1/90

Man, talk about another game that the defense was just brutal.

After a season that started with three straight losses, Coach Stallings had finally gotten the defense playing the way he wanted, and they came up big by only giving up 38 points in their last 6 games of the regular season, while piling up a 7-1 record after the first 3 losses.

Auburn had won 3 straight in the series, but Coach beat them in his first try, 16-7. He was treated accordingly, being carried off the field part of the way by the team.

As soon as the game was finished, President Roger Sayers accepted a bid to the Fiesta Bowl to play 9-1-1 Louisville. What made this huge was the fact that the faculty senate at UA had voted to reject an invitation because Arizona voters had recently voted down a proposal to make Martin Luther King Jr.'s birthday a paid holiday for state workers. Didn't matter. That ain't got nothin to do with football.

Overall Stallings record: 7-4

Thursday, May 15, 2008 Days 'til Kickoff: 107

Holy crap. We got the mastered copies of our new songs back. Man. Brad Blackwood's a friggin genious. This stuff sounds awesome. Of course...I guess that's why he's worked with ZZ Top and Evanescence, etc. Our stuff sounds awesome. :-)

Andre Smith is a member of the Playboy preseason All-American team this year. Pretty high honor. This list has been around for as long as I can remember...and it's always nice to have a Bama player getting some national recognition.

The College Football News preseason bowl projections have Alabama playing Wake Forest in the Music City Bowl. I guess I could live with that. I would prefer to be playing in Florida though. Haha.

Operation Sports has posted some early pics from NCAA '09, which will be what I work on conquering this July for the PS3, which I just recently bought. Check them out below. Click the pic to see a full sized version.




Pretty bad ass, right?


COACH STALLINGS: game #10: Cincinnati @ Alabama - Tuscaloosa, AL - 11/17/90

Well, we finally gave up a touchdown, but it didn't really matter. There wasn't a lot that Cinci could do in this game anyway. Our offense was firing on all cylinders, and, behind Robert Jones' three touchdown runs, the Tide stuffed the Bearcats 45-7. It was never even close.

Overall Stallings record: 6-4

Wednesday, May 14, 2008 Days 'til Kickoff: 108

The Crimson Caravan has finally come to a stop, with the last edition of it happening in Meridian, MS. Smaller, but very enthusiastic crowd, got to hear a lot of the same stuff that Saban has been saying all along. Read more here.

It appears that Alabama vs Duke will happen in the Georgia Dome in 2010, just like they had been wanting. Saban wants a presence in Georgia, and by God, he's getting it. This would work better financially for both Duke and Alabama, and it would definitely help the recruiting for both schools. Just imagine what the storylines will be since David Cutcliffe, a UA alum, is the new head coach at Duke. Read more here.



COACH STALLINGS: game #8: LSU @ Alabama - Tuscaloosa, AL - 11/10/90

Make that 4 straight games without giving up a touchdown. Chris Anderson went crazy, making touchdown runs of 30 and 46 yards and leading Alabama to a 24-3 victory over the hapless Tigers.

Overall Stallings record: 5-4

Tuesday, May 13, 2008 Days 'til Kickoff: 109

Not a whole lot happening today.

They did announce the schedule (so-far) for ABC, ESPN, ESPN2, etc. I find it very odd that they've already announced Michigan State vs Cal as the ABC 8pm EST game on Saturday, August 30th. I figured Bama / Clemson would be a much more highly anticipated matchup. Guess I'm wrong though. Read more here.



COACH STALLINGS: game #7: Alabama @ Mississippi State - Starkville, MS - 11/3/90

This was the 3rd consecutive game where the Tide didn't allow a touchdown. They held Mississippi State to only 202 yards in the entire game. They easily handled State 22-0 that day.

Overall Stallings record: 4-4

Monday, May 12, 2008 Days 'til Kickoff: 110

So, to be completely honest, Florida should have swept the Bama baseball team this weekend. But instead, the Tide had 2 days worth of late inning drama to steal 2 wins and the series from Florida. Read more about it here. It was absolutely incredible.

We talked about this last week, but the Montgomery Advertiser touches on it a little more. Coach Saban wants as many of the incoming freshmen as possible to be here to enroll on June 3rd to get started in the strength and conditioning program. Read more here.

Cecil Hurt lets us know that McClain's motorcycle accident serves as reminder of how thin the Alabama linebacking corps really is. It's pretty scary, if you think about it. Read up on it here. If you'd like to see Rolando before and after his accident, check out the before & after pics here.

As if it was even a surprise, a story has come out that says OJ Mayo accepted gifts and cash while he was going to school at USC this past season. Yeah. That never happens in college basketball. Riiiight.

DJ Hall is doing a good job of turning some heads at Giants' mini camp. He was hailed as the star of the first day of practice on Saturday. The only issue is whether or not there will be enough roster spots for him. We shall see, I suppose.

If you didn't already think that Baton Rouge is a dirty, nasty place...well, now you have even more reason to start thinking that way. UCF cornerback Johnell Neal was injured in a shooting down there on May 8th. Yup.


COACH STALLINGS: game #7: Penn State @ Alabama - Tuscaloosa, AL - 10/27/90

Just one week after Alabama stymied Tennessee's offense, they did the same thing at home to Penn State. The two teams' defenses absolutely beat the stew out of each other.

The only problem was that our offense couldn't get going either. For the 2nd straight game, the Tide held their opponent without a touchdown through the entire game, but our offense wasn't able to get anything going at all against a stout Penn State defense that led them to 5 straight wins, including the 9-0 shutout of Alabama, which was the Tide's first shutout defeat at home in 35 years.

Overall Stallings record: 3-4

Friday, May 09, 2008 According to Ohio.com, the University of Arkansas now has licensing control over the "Razorback" guitar commemorating Dimebag Darrell Abbott, who was killed in 2004. This is ridiculous. Read here.

Screw you, Arkansas.

Days 'til Kickoff: 113


Gene Robinson woke up Wednesday with no scholarship offers. Then, that night, the Memphis defensive back had two - from Alabama and Ole Miss. Read up on him here.

Antoine Caldwell has been named to the Rimington Award watch list for the 3rd consecutive year (the award for best center). Pretty dang cool. Maybe he'll actually win it this year. Read up on it here.

If you're a recruit, and you didn't already know this, your summer break will not be lasting very long. Coach Saban wants and expects all qualified incoming freshmen to be enrolled for the first summer session at Alabama, which starts on June 3rd. Yup, that's right. No, they can't start mandatory practices til August (it's against NCAA rules), but they can begin the strength and conditioning program, and they can conduct "voluntary" workouts with other teammates to start learning "the process." Coach Saban talked about it at the Crimson Caravan in Tuscaloosa. Read more here.

The Crimson Caravan made the stop in Tuscaloosa, and boy was it big. Check out TideSports.com's coverage of the event here.


COACH STALLINGS: game #6: Alabama @ Tennessee - Knoxville, TN - 10/20/90

It's games like this that really make Tennessee hate Alabama. And I absolutely love it. In 25 games, dating from 1988 through 1990, Tennessee only suffered 3 losses, and all of them were to Alabama. Tennessee was ranked #3 in the country coming into this game (how, I have no idea - they were 4-0-2 going in).

The game was a defensive battle. Bama held Tennessee's supposedly high-powered offense to just 175 yards and no touchdowns (and only 3 first downs in the first half). Regardless, Tennessee had driven far enough downfield to attempt a 50-yard field goal with 1:35 left in the game to try and win it. Stacy Harrison blocked the kick and Alabama recovered the ball back downfield at the Tennessee 37. The Tide gained 7 yards and ran the clock down to 4 seconds before Phillip Doyle hit the game winner from 48 yards out to upset the Vols 9-6. The video below says it best.





Overall Stallings record: 3-3

Thursday, May 08, 2008 Days 'til Kickoff: 115

Yup. It's Thursday. I'm so out of touch with everything right now that it's just absolutely killing me. I thought yesterday was Tuesday. Even wrote it down on some of my stuff at work. They brought it to me this morning asking if I knew what day it was. Haha.

They finally released the new cover for this year's Athlon football preview. It looks aight, I suppose.




Marshall's Auburn Blog over at al.com wants to know whether or not Tuberville can take it to "the next level" in the coming years - which leads to the question of how Tuberville will be remembered. Read up on it here.

I just read about a perfect example of the kind of players we want representing the University of Alabama, and it's a great story. Ali Sharrief is a good kid with a good heart. Cheers to that.

Even USA Today has caught on to Coach Saban using a video phone to talk to his recruits. Interesting stuff...but nothing we didn't already know. Read more here.


COACH STALLINGS: game #5: Louisiana-Lafayette @ Alabama - Tuscaloosa, AL - 10/6/90

This was another of those "whatever" type of games. Not much to recap here. Alabama played mostly second stringers in this one, as they geared up for Tennessee the next weekend. Tide won 25-6.

Overall Stallings record: 2-3

Wednesday, May 07, 2008 Days 'til Kickoff: 115

Like there's something I should be doing. Like today, for instance. It's Wednesday, May 7th. Seems like there was something that's going on that I'm supposed to be at, but I can't remember what it is. It's really annoying the hell outta me.

Oh well. I'm sure I'll remember. I know I've got practice, but there's something else.


The Bama football team scored a 944 for their APR - which is what the NCAA uses to adjust scholarship limits, etc. It's also worth noting that not one single team from the University was below the 925 cut point. Congrats everyone - good job and keep up the good work! Read more here.

Spring football is becoming a whole new season. Just ask all the other colleges. Average attendance at SEC spring games this year was 31,000. Yeah, that's right. Boooyah. Read up on it here.

If you missed the "all access" special with Alabama on ESPN the other day, it's posted below.






COACH STALLINGS: game #4: Vanderbilt @ Alabama - Tuscaloosa, AL - 9/29/90

Coach Stallings' first win was relatively easy, and didn't seem to be too much of a problem. They started early on Vandy and didn't let up. Robert Jones had two 1-yard touchdown runs, while Gary Hollingsworth threw a 25-yard touchdown to Kevin Turner. Once the game was out of hand, Tarrant Lynch scampered 77 yards for a touchdown late in the game. Vandy was really going up against the big boys in this game. The Tide won 59-28.

Overall Stallings record: 1-3

Tuesday, May 06, 2008 Days 'til Kickoff: 116


I overslept this morning. Got to work at 9. That sucked.

I'm really getting burned out on working. I want to bust my ass for something that I enjoy. Like music. Or Alabama football, for example. Oh well.


Anyway, there's not much going on today. Keith Saunders signed with the Dolphins instead of the Patriots. That's cool. He'll be playing for Bill Parcells' squad. Read more about it here.

The Kansas City Star has an article about how the shootings by the National Guard on Kent State students 38 years ago affected coaches who were there at the time - Gary Pinkel and Nick Saban. Read more here. Interesting story.


COACH STALLINGS: game #3: Alabama @ Georgia - Athens, GA - 9/22/90

Coach's first away game didn't break the losing streak that had reached four games, dating back to the '89 season. And this one was yet another heart breaker. Alabama led 16-6 in the fourth quarter, and gave up a touchdown and 2 point conversion with 5:53 left to cut the deficit to 16-14. Then, after the offense couldn't move the football, we gave it back to Georgia with 4:03 left.

The Dawgs drove down the field and John Kasay kicked a 40-yard field goal with 1:31 left in the game, giving them a 17-16 lead. Our offense stalled again, and the game ended with our third straight loss to open the season. Luckily we had Vandy the next week.

Overall Stallings record: 0-3

Monday, May 05, 2008 Well, let's review, shall we?

Nothing major happened over the weekend, other than Bama taking 2 of 3 from Arkansas to stay in a tie with Ole Miss atop the SEC West (which means Bama is #1 in the West due to the tie-breaker).

AJ McCarron, the highly touted 4-star QB from Alabama, committed to the Tide on Saturday, so that was big. It's leading some to question whether or not Alabama could have the nation's #1 recruiting class in 2009.

Other than that...I spent the weekend down by the river for the Memphis in May Beale Street Music Festival. It was pretty damn fun this year. Even in years where the lineup doesn't seem like it's that great, I still have a great time. I guess it's the atmosphere or something. Just good times.

Here's an idea of what I saw, and would recommend that you check out.

FRIDAY, MAY 2nd

Lord T & Eloise played their normal set of aristocrunk hip-hop, not letting the rain slow them down one bit. It was incredibly entertaining. I don't even know what else to say. They're pretty damn good at what they do...I'll tell you that much. Check them out at myspace.com/lordtandeloise.

Charlie Musselwhite is incredible. We saw him at the blues tent for about 30 minutes, while we were waiting on Jonny Lang on the Sam's town stage (thanks to the rain). It was an awesome show. He really gets that crowd goin, man.

Jonny Lang is still as bad ass as he was way back when "Lie to Me" came out. He's just a great showman, and a really good frontman. His set was cut ultra-short (he only played 5 or 6 songs), but it was well worth waiting out in the rain. Good times, man.

SATURDAY, MAY 3rd

Muck Sticky is a local boy that's been doing his brand of weed-humor rap for about 5 years now. He's gotten a pretty damn big following as well. He knows how to promote himself. He's even got the "Muck Van" with his picture and whatever else on the side. He just looks kinda goofy...and his whole family is kinda like one of those carnival attractions or something. Very awesome show, and fun at the same time.

Saving Abel are actually friends of mine, so I'll give them some props. Their set was, admittedly, a lil bit boring, but still worth checking out. They're in the same boat as 3 Doors Down, only a lil bit more crude with some of the lyrics. Definitely a teenager's dream band.

Cat Power was actually pretty good. My better half wanted me to go watch her, so we went down and propped up next to the stage. She reminds me of somebody that should have been around in the 60s and 70s. Kinda hippie, but kinda not. Her vocals reminded me of Janis Joplin, or something along those lines. Just a lot cleaner. Very mellow set for a Saturday afternoon.

Backdoor Slam played the blues tent, and damn were they awesome. They're the only band in the blues tent this year that was allowed to do one more song because of the crowd response. They were loving them, and I agree...these kids are bad ass. They're not really blues...more of a jam band, I suppose, but they kicked everyone's rear-end on Saturday.

Buddy Guy was his normal, incredible, self. He even had Santana watching him from beside the stage. Buddy's been around a long time. 5 time grammy winner, etc. If you haven't seen him live...I would definitely recommend it.

Simple Plan is actually a band that I don't really like. But they're a damn good live band. They got the crowd into it and everything, and they were actually pretty fun. I think they may be queer though. Not sure.

Jon Butler Trio was a fun way to end the night. Slide guitar, etc, was real prevalent, and damn there were a lot of hippie dancers out there. After watching him for a good bit, it was time to head up to Beale Street where we played a set at the Hard Rock. And yes...that went pretty well. :-)


SUNDAY, MAY 4th

Gavin DeGraw brings out the pop-rock kid in me. I'm a sucker for catchy pop tunes, and this guy writes a ton of them. His singles are awesome. We watched him finish about 4 or 5 songs, then headed on over to the blues tent.

Calvin Cooke is just incredible. He plays the steel guitar, and he had Big Chew (from the North Mississippi Allstars) playing bass for him. Made for an excellent show. Of course, we only caught about 3 songs...but they were great. I'm going to buy the cd later today. It was some kinda good.

Umphrey's McGee is one of the better jazz-influenced jam bands that's out there today. They were kicking on all cylinders...even if they did play one song that turned into a 20+ minute jam.

Michael Franti & Spearhead were amazing. The only really reggae band on the festival (unless you count Matisyahu), they had a huge crowd, and everyone was big-time into it. They were great.

Richard Johnston - now, I'll admit, I've seen him a ton of times over on Beale Street. Pretty much every weekend. He's always out there playing and cussin people and doin his thing. He was in a great mood on Sunday and was an absolute joy to watch. He's an incredible musician, and he's been around the world doin his thing. If you haven't seen him, please check him out.

Jerry Lee Lewis is, of course, the killer for a reason. I thought the portion of his set that I saw went really well, and then, at the end of the show, he tells the crowd "Imagine what it could have been if I had a better band." He then proceeded to yell at his band members while leaving the stage. Complete horseshit. No need to be a jerk, even if you are a so-called "legend."

Aretha Franklin is the Queen of Soul, and man did she prove it. She was in rare form on Sunday night, going through hit after hit after hit. The crowd she drew was ridiculously large, and she played right along with it. The mayor of Memphis even went out and gave her a key to the city, even though he was being booed the whole time. Haha.

Finger Eleven we watched Finger Eleven for a bit as well. That was cool, I guess. For a rock band, those guys sure have gotten boring. They used to be incredible. Now they're just another pop-rock band. Kinda sucked. I guess the single was cool...but they split it into two parts so they could play a bunch of stupid cover songs in the middle of it. Whatever. Their old stuff was really good, so that's why I listed them.

The Black Crowes were the highlight of the festival for me. They were flying through such a bad ass set that I didn't even notice the time. I wanted to see the end of Fergie's set before we left, and she ended 15 mins before the Crowes, so I left them a tad early to go see what the fuss was about. Oh, and if you don't have the new album "Warpaint" go get it. It's awesome. Luther Dickinson from the North Mississippi Allstars is their new slide guitarist.

Fergie was cool. I hate her music, but love her moves man. She's just got an awesome body. The crowd was stupid big for her...and apparently every teenage girl in the city of Memphis was at this show. Her face looks kinda like a dude...but everything else is pretty awesome.



see what I mean?




Yeah, I know. Long post, but still worth it. All of these bands were entertaining. I skipped the ones that were kinda "blah," so there's your entertainment update for the next few weeks...haha. Did anyone else happen to make it out?


COACH STALLINGS: game #2: Florida @ Alabama - Tuscaloosa, AL - 9/15/90

This was Coach Stallings' first game on campus at Alabama, and boy was it another doozy. Again, turnovers were the difference. After Bama took a 10-0 lead, Florida roared back thanks to interceptions thrown by my boy Gary Hollingsworth. They squeaked out a 17-13 victory, making it Alabama's longest losing streak (4 games, dating back to 1989) in 34 years.

Overall Stallings record: 0-2

Friday, May 02, 2008 Days 'til Kickoff: 120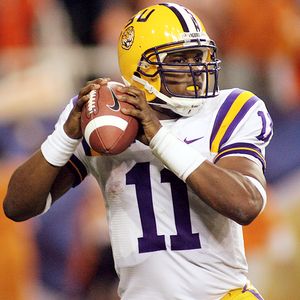 See ya later dude. It finally happened, and I'm thinking that he must have dome something pretty damn bad this time. Perrilloux was given EVERY opportunity to stay on the LSU team...and he didn't do what he needed to stay on.

So, with that said...that means that Alabama and Arkansas will have the most experienced QBs in the SEC West this fall. I'll honestly take Wilson over Dick any day of the week. This could...possibly...spell good things for us. We'll just have to see how it plays out.


Alonzo Gee announced his intentions to enter the NBA draft yesterday. Pretty interesting news. And for those of you keeping score, that's 6 players from last year's team that could be gone - Ron Steele, Richard Hendrix, and Alonzo Gee have all declared, Riley graduated, and Justin Tubbs and Rico Pickett are transferring. Geez. Not good.


One more scholarship off the board. Charles Hoke has been placed on medical scholarship.

Well, it looks like we have yet another SEC tie-in to a bowl game. Make that number nine. The PapaJohns.com Bowl in Birmingham will host a Big East team vs an SEC team. Could make for some interesting matchups. Only problem is that it's going to be the 7th place Big East team vs the 9th place SEC team. Geeez. Check out the website here.


For those that had been waiting, I finally figured out what I'm going to do for this year's countdown. I'm a big fan of the "good ol' days," but since I wasn't around for when Coach Bryant was here, I will instead have to go through when Coach Stallings was here. We're going to countdown every Stallings game, from the first one in 1990, all the way to the last game against Michigan on Jan. 1st, 1997. Hopefully we'll be returning to those glory days soon enough.


COACH STALLINGS: game #1: Southern Miss @ Alabama - Birmingham, AL - 9/8/90

This was Coach Stallings' first game at Alabama, and boy was it a doozy. The QB, one of my favorite in Tide history (probably because I watched him dismantle Ole Miss in 1989 in Jackson, MS), Mr. Gary Hollingsworth, threw 2 interceptions to safety Kerry Valrie, who returned one for a touchdown, and returned the other to the 10 yard line to set up another touchdown.

Brett Favre was the QB for the Golden Eagles, and it was a question whether or not he would even play. He didn't put up great numbers (9/17 for 125 yards), but he didn't turn the ball over either. Our offense put up 24 points that day, and our defense held pretty strong, but the turnovers killed us. Those 14 points were the difference in the game as Southern Miss took a rare win against Alabama, 27-24.

Overall Stallings record: 0-1

Thursday, May 01, 2008 Days 'til Kickoff: 121

Beale Street Music Festival is right around the corner. I'm getting antsy about it. I'm hoping it doesn't rain on us too bad, but it looks like the storms could be pretty ridiculous tomorrow. Oh well. I'm sure Jonny Lang will open up with "Still Rainin'." Now that'd be classic.

Coach Saban talked with Ian just a touch about his "videoconferencing" with prospects. He doesn't seem to think that it's too revolutionary. Of course, I (and everyone else) beg to differ with him, but hey - it doesn't matter. Read more about it here.

Good Lord, this kid is huge. Alabama's made an offer on him. Read a story from the Viles about him.



Morgan Moses - 6'7" 347lbs. He'd look good in Crimson



The "plus-one" format got shot down again the other day, which means it'll be at least 2014 before we see any kind of playoff system in college football. Sucks man.

National publications are beginning to realize what this past draft meant - that Alabama's talent level has not been up to par with other SEC schools. Read the sporting news here.


I'm trying to come up with what countdown I would like to do this year once we get down to 100 days left...so we've got exactly three weeks. Any ideas?