Monday, March 31, 2008 It's Monday, and you know what that means, right?

That's right. Cheers and Jeers. The wonderful thing to start off the week, and to kinda give you a recap of what I was thinking about this weekend. So let's get it started.


Cheers to the University of Memphis State University (hehe...that was a joke) for making the Final Four for the first time since 1985. This team is just ridiculously good, and made two teams that have been hanging out in the top 15 and top 10 all season look ridiculous. The first half against Michigan State on Friday night may be the best half of basketball that I have ever seen by one team in my entire life. Ever. 50-20 at the half in a sweet 16 game? Same goes to the game yesterday against Texas. Derrick Rose is an absolute beast and I think he will carry this team past UCLA in the next round. I don't know if they'll beat North Carolina, but I think they've got a damn good shot. This is a fun team to watch. Make sure you tune in on Saturday night.


Jeers to Washington State coach Tony Bennett for not pursuing the Indiana coaching job. That's the most ridiculous thing I've ever heard. You're losing three seniors in Pullman, and your recruiting class isn't exactly stellar. You've got a shot to make some bank and take one of the most high profile jobs in ALL of college basketball, alongside Kentucky, UCLA, and North Carolina, and you don't take it? There's got to be something more to this that we're missing out on, but it still looks like a dumb decision by Bennett.


Cheers to the Alabama baseball team for taking 2 of 3 from Ole Miss this past weekend to even up to 4-5 in the conference and remain tied for 1st place in the West with Ole Miss and Auburn. How ridiculous is it that we got swept by Kentucy in the first series, then took top 10 Vandy 2 out of 3, then #15 Ole Miss 2 out of 3. I just don't even know what to think anymore. But, cheers to you guys.


Jeers to the Gridiron Bash, which most everyone thought was a dumb idea, and a greedy way to make money off of sports fans, anyway. They announced over the weekend that all of the Gridiron Bash has been canceled, and then they tried to blame it on the NCAA. How ridiculous is this. So, no more trying to capitalize on eager sports fans. And shame on you yankees for devising such a shitty scheme.


Cheers to South Carolina for picking up Darrin Horn from Western Kentucky before anyone else did. He's a helluva coach, and would have ended up with a higher profile job sooner rather than later, and I think he's gonna be a good one.


Jeers to injuries and medical problems hindering the Alabama football team. For examply, lets take a look at Lionel Mitchell, who was a hopeful to start at cornerback, and Zeke Knight, who would be our only other returning starter at linebacker beside Rolando McClain. Both of these guys, along with several others, are having to sit out spring practice due to different medical conditions. Read more about it here and here.

Friday, March 28, 2008 I haven't watched the Simpsons in forever, but somebody said that this morning as both of my phones rang at the same time in my office. Haha. Yup - it's gonna be one of those days.

There's not a lot on the plate for today. The NCAA tournament was awesome last night. Watching Bruce Pearl get smacked around by a real coach (Mr. Pitino) was great. North Carolina proved that they may be the best in the country, and West Virginia showed that the Alexander kid is really just about all that they've got. Once he left with his 5th foul, the team went in the tank. I was impressed with Western Kentucky's effort against UCLA, but, of course, UCLA's too good to get beat by a team from a mid-major conference. I hate the Bruins.

Anyway, tonight we've got Memphis vs Michigan State, Stanford vs Texas, Kansas vs Villanova, and Davidson vs Wisconsin. I'm gonna be pulling for Memphis, Stanford, Villanova and Davidson. Yup yup. Of course, it's likely that none of those teams will win, but we shall see.


Bama's transition to a new defensive coordinator (yeah, right) has gone completely unnoticed. It hasn't affected the scheme or the playbook, or who is working with who, or anything like that. It's just a title change, which, in the grand scheme of things, doesn't matter. The players are doing much better this time around, as opposed to this time last year when they didn't know where they were supposed to be. It's a pleasant change to have confident kids, even if half of them won't be starting by the time fall gets here. I mean, will all the incoming star studded freshmen, it'll be tough to not give them the playing time if they're just better at it.

Glen Coffee's more than likely going to be the starting tailback this season, but for spring, he's sporting a no-contact jersey. Coaches are trying to be careful with him because of his offseason shoulder surgery, but looking at the way he ran last year, he's the closest thing to an every-down back that we've got. It'll still be running-back-by-committee though, so don't think something's going to change. :-)

ESPN.com has an article about how Coach Saban is preparing Alabama to start competing with the past Alabama teams. Everyone knows he'll have this team playing great football by '09, but we're hoping it'll be even sooner than that. This past recruiting class was the type that championships are made from - so we'll see if he can continue the climb to the top. Read more here.

JaMychal Green had a good showing in limited minutes in the high school all-american game last night. Read more about it here.

Thursday, March 27, 2008 Once we get through today, then we've only got tomorrow before the weekend starts. Good deal, right? And boy, do I need it. This week has been ridiculous, thanks to the Nashville trip, and having things piled up on me here at the office. I've been playing catch-up ever since. Of course, I'm not too busy for the blog, so I guess I shouldn't be complaining. Haha.

My favorite band, Sevendust, announced yesterday that they're bringing back their guitar player that quit back in 2004. His name is Clint Lowery. Now, honestly, they wrote their best material while he was in the band, but the breakup was an ugly one. I know that for certain. Hell, they had songs on the next record about what a piece of shit he was. And then they kick out Sonny, the guy that came in and took his place (and did a damn good job of it), without very much warning. I'm just not really sure what to think about it. I think the material will get better, but I think the live shows will suffer for it. Oh well. Regardless, I'm still a huge fan. Already got my tix for the Jackson, TN show. Haha.

Jimmy Johns has come to the realization that he's a senior now, and his only shot at a starting gig is playing linebacker. And he's getting better at it. This kid has all the physical abilities in the world, so now he just has to learn the position. I wouldn't be surprised to see him starting there this fall.

Rashad Johnson called yesterday's practice one of the best since they've been out there. This year everyone is more relaxed and knows where they're going, as opposed to last year when Johnson had to call plays and tell everyone where to be all the time. It's not as easy to react when you don't know where you're going. Read more here and stop in here to read more about how Johnson is preparing himself physically for the upcoming season.

The offense felt like they had a really good practice as well, according to Antoine Caldwell. He said it was one of the 2 or 3 best practices they've had since he's been here. The offense is clicking, and everyone is really looking forward to Coach's Mac's style. Read more here.

Richard Hendrix made the logical decision and is going to enter his name into the NBA Draft - sort of. He's not hiring an agent, so that way he can come back to school, incase he doesn't go where he's planning to. He'd be a fool to not at least test the waters, so best of luck to him, but here's hoping he'll be back again next year.

Wednesday, March 26, 2008 Yay! Our triumphant hero returns from a looooong week in Nashville. I got in last night from recording our debut album with a producer/engineer named Dan Martinie. The guy's a freakin awesome engineer and a great producer as well. He had a ton of great ideas and it really helped us reach that next level. I'll be about 2 months before we have the final product back (after mixing and mastering), but then we'll be ready to distribute. The release date currently looks like Tuesday, June 24th, but we'll see. That's still tentative.

Sooo, I do see that I've missed quite a bit, and since I'm at work, I can't catch up quite that much...but we'll do what we can. We'll start off as if today is Monday - with Cheers and Jeers.

Cheers to Memphis for shutting up the Bullies from Starkvegas. If you had listened to Memphis sports radio for the past week, that's all they would call in about - how MSU was going to destroy the Tigers. If you watched the game, there was never any doubt who was going to end up winning.

Jeers to the rumors that John Calipari will be Alabama's next head coach. Don't get me wrong - the guy's a helluva recruiter, and what he's done at Memphis is ridiculous, but you don't need to spend 3 mil on a basketball coach per season, especially in a conference as difficult as this, with a fan base as fickle as ours. Cal is already making 2 mil per year in a conference and school where he's the top dog. No reason to come to the SEC. And no reason for Alabama to do anything drastic - yet.

Cheers to the fact that Alabama's spring roster currently only has 67 names on it. And more will be gone by spring. That's right, my friends. Get rid of the bad seeds. What I don't like seeing is the fact that there are only about 15 seniors (might need to recount). Either way, we should be ok as far as depth, etc, is concerned.

Jeers to College Football News predicting that Florida and Ohio State will be playing for the National Championship again after this season. That would be a complete drag to me, and pretty much everyone else. They do have a good point about Georgia having some tough road games though.

Cheers to Coach Saban for not giving a damn when people try to make a big deal out of Les Miles making $1,000 more than him this season. Good work, Coach.

Jeers to Victor Ellis finally losing his battle with cancer last night. Ahmaad Galloway was with him when he finally passed. Our prayers and thoughts go out to his family.

Cheers to an LSU writer stating that Ryan Perrilloux should be kicked off the team, even though the depth chart is weak at that position. Read more here.

Like usual, I'm sure I'll have more on here later. For now...back to work.

Thursday, March 20, 2008 I'm currently in Nashville, with the band, working on recording a new album. Not to mention the fact that it's spring break at UA, so there's not much going on right now.

Not sure if I'll have another update until Monday or so. Have a wonderful easter!

Tuesday, March 18, 2008 So, since I was in orientation all day yesterday, and then got home to find out that my internet was down for most of the evening, I didn't get to make a post. No worries though. Cheers and Jeers will keep rollin on.

Cheers to Mykal Riley's buzzer beating 3 pointer, which ended up saving many many lives. If he doesn't hit that shot, everyone pours out into the streets of downtown Atlanta, in the middle of an F2 tornado. Exactly.

Jeers to mother nature. C'mon man, can't you just let us have our basketball tournament in peace? I mean, seriously. There was no way you could've just made it an F1 tornado so it doesn't blow a hole in the roof and all that? Oh well. I, and my golf game, appreciate the good weather yesterday here in Memphis anyway.

Cheers to spring practice rolling right along without incident. No arrests, no injuries, etc. Let's hope it stays this way.

Jeers to Les Miles' contract, which says he has to be no less than the 3rd highest paid coach in the country. LSU bumped his salary up to exactly $1,000 more than Nick Saban's this season, which is rather humorous to me. :-)

Cheers to this Bama basketball season being over. Rather than enter a tournament competing with the NIT and the NCAA tournament, and risking $60K to host a game when they students aren't on campus, the University declined an invitation to the CBI tournament on Sunday. I think that I would have to agree with this one. This year was dreadful, and rather than spend more money to continue playing and possibly embarrass the school with a loss to Valpo, or somebody else, they decided to just call it a year and work towards next season. I'm down with that.

Jeers to the NCAA tournament for leaving out a really good Dayton team who beat lots of quality opponents, and for putting in an 18-13 Oregon team as a 9 seed, and a 19-14 Arizona squad, who looks dreadful at the moment, as a 10 seed. Ridiculous.

Cheers to Memphis getting a number 1 seed in the South Regional and getting to play, possibly, Mississippi State in the 2nd round in Little Rock. Talk about a fun matchup.

Jeers to the Tournament committee for putting Texas as the #2 seed in the South regional, meaning this has happened 3 years in a row - in '06 Memphis was a 1 seed and had to play 2 seed UCLA in Oakland, CA for their regional final. In '07 Memphis was a 2 seed and had to play 3 seed Texas A&M in San Antonio in the sweet 16. And now, this year, if Texas and Memphis get to the regional finals for a trip to the final four, they will be playing it in Houston, TX. Sound like a conspiracy to you?

...and finally, Cheers to Georgia for winning the SEC tournament and securing the lowest seeding by a BCS school into the NCAA tournament in history. This team went from 13-16 with not even a shot at the NIT, to a favorable upset pick in the NCAA tournament. Talk about crazy...

Friday, March 14, 2008 So, this is how far we've fallen as Alabama fans.

After the early barrage to start the game, and our beloved Tide jumped out to a 28 point lead in the first half, the only thought running through my mind was "I know we're going to screw this up somehow."

And, of course, we did. Midway through the second half, Florida cut the lead down to 5, and I just knew we were toast. But, somehow, someway, we found a way to win it in the end. Hitting free throws and actually being smart with the basketball.

The guys played hard and played very physical. They were all over the place for loose balls, etc. Diving on the floor, pulling it away from the opponent. It was great to watch. Now we've got State tonight, and that'll be another difficult test, but it's payback, because they beat us both times in the regular season. Game tips off at 6:30 again.


As far as spring practice goes, all eyes are the new offensive coordinator. Coach Saban likes the chemistry the staff is working with now, and he REALLY likes the toughness that Coach Mac brought in to the offense.

There were some position changes, at least for the moment. "At linebacker, the four players working with the first unit were, from left to right, Chavis Williams (which would be the hybrid linebacker/end Jack position), Jimmy Johns, Rolando McClain and Cory Reamer. The second unit was Charlie Kirschman, Jennings Hester, Charlie Higgenbotham, and Eryk Anders. Alex Watkins was with the third unit." But wait...there's more. Javier Arenas was working as backup for the cornerbacks, and Justin Woodall was practicing with the first group of safeties, alongside Rashad Johnson.

Alabama's pro-day workouts were crazy. Matt Caddell had the best numbers of anyone there, by far, and it wasn't even close. He destroyed both Simeon Castille, DJ Hall, and Keith Brown. He ran the 40 in 4.41 and 4.39, had a 39 ½-inch vertical jump, 10-foot, 8-inch long jump, 4.33 short shuttle, 7.33 cone drill, 13 reps in the bench press, and ran position drills. Take a look here to see the rest. Insane.

Thursday, March 13, 2008 Yeah, I got caught in a whirlwind yesterday at work and had zero time to actually update the site. I apologize.

Anyway, you don't care about that...you just want what's going on. I know you cats. Haha.

As The Capstone Report talked about yesterday, the expansion to Bryant-Denny Stadium has been postponed because of the current economic slowdown. You know the world's in trouble whenever you run into issues getting money from people that actually have it.

As far as voting goes for the new EA Sports Mascot Challenge, we're currently in 7th place...and we're losing to Auburn. So go here to vote. You can vote once a day. I do it on a regular basis, so you should too.

RollBamaRoll.com goes over the 2008 Preview of the Offense, and damn - OutsidetheSidelines does a great job. I love reading his work. Todd and Nico did a good job picking him up for the site.

Everybody going into spring practice has a chance to earn some playing time this fall, if they work their tail off...but in the end, the coaches won't be surprised to see up to 10 incoming freshmen get significant playing time this season. Sounds good to me.

You've got to love the fact that Coach Saban thinks this team is better prepared to go through spring practice than was last year's. The 4th quarter program has really worked for these kids, so they're better suited to stay consistent. Read more here.

Tim Gayle, at the Montgomery Advertiser, gives you a brief layout of everything that you need to know regarding the Tide's first practice of the spring, which happens today. Maybe we'll hear some exciting news...or maybe, since it's closed off, we won't hear anything. We'll just have to wait and see.

Ian, just like the rest of us, is a curious bastard. The only difference is that when he wants to know something, he starts calling around to get answers. Luther Davis is, of course, out this spring, and didn't finish the last few weeks of the S&C program - and Ian wanted answers. So, while Coach Saban won't give us any details, he thought surely Luther's high school coach would. Anyway, the issues are definitely personal, because nobody's really talking. The word is that Luther is going to stay in class at Alabama and work his ass off to get back by fall, but other than that, we don't know much. It's not an injury, although he did hurt his back not long ago (but that's healed). So, until then, just read up on Ian's research and I guess that'll be the end of it.

Wednesday, March 12, 2008 Yeah, I know. It's ridiculous how much I work, but I gotsta pay the bills. I'll be working on a longer update once I leave the office this afternoon. Til then, stay cool my friends.

Tuesday, March 11, 2008 Well, it doesn't start until Thursday, but we're finally getting to talk some football. How sad is it that the biggest news story in Alabama on Thursday will be the start of spring practice, as opposed to Alabama first game in the SEC Basketball tourney? I guess not sad at all down here. Doesn't bother me one bit.

Before we get on that note, let's talk about Coach Saban finally having other people speak up about the fact that coaches can no longer visit high schools in the spring, because other coaches started complaining that it gave other schools an unfair advantage. Coach Saban has disagreed with this ruling, saying that it's not his fault that other coaches don't get out there and do it when it's not against any NCAA rules. Now, Pete Carroll is siding with Nick Saban, claiming "other coaches are lazy."

Scout.com has a 2008 Spring Preview, and they singled out Alabama, saying that we should be contenders in the West this year, and a candidate to win 10 games, which would lead to a (and I quote) "monstrous 2009 season." Read more about what they say here.

Chris Walsh points out the 10 things to look for once spring practice starts. I like his list, especially noting that the linebacker position is #1 on his list. We're more than likely losing four players with experience at that position, with the only returner being Rolando McClain. Jimmy Johns made the switch, and we've still got Cory Reamer and Brandon Fanney that could earn some playing time. The biggest contributers should be Jerrell Harris and Dont'a Hightower, in my opinion. I think both of them could be starting in the Clemson game. This defense is going to look wildly different as opposed to last season. And for those still banking on a 3-4 defense...get that thought out of your head right now. Watch what we did last season and now tell me this isn't a 4-3 scheme with a more athletic defensive end on one side. It is what it is.

We'll start previewing more as we roll along. Have a good rest of the day!

Monday, March 10, 2008 Especially after daylight savings and whatnot. I hate the idea of losing an hour. Not to mention the fact that my "body clock" still isn't in full gear. So, of course, I didn't get to shower this morning before I came into work. I smell like cigarettes and ass. Not cool. Oh well, I guess that's the life of a rockstar. Haha.

Actually, I went to bed early last night, just to give myself some extra time to get adjusted, and it still didn't work. I guess it's just gonna take some getting used to. Kinda sucks, y'know.

Doug Segrest has a pretty good article up talking about how the media latches onto anything that could involve cheating at Southeastern Conference schools, but that in reality, the Big 10 has had more violations since 1953 than any other conference with 55 infractions. The SEC comes in 2nd with 48, then the Pac-10 with 41 and the Big East with 40. Read up on it here.

Read the Gainesville Sun article about Florida's problems with Kentucky yesterday, and how we might be able to take advantage of that on Thursday night in the Georgia Dome.

One of Clemson's starting linebackers, Corey Vincent, will miss all of spring practice due to suspension. Now, will he be gone completely, or will he be back in the summer?

UAB had a shot to maybe make a point and position itself for an NCAA tournament appearance...but instead got absolutely destroyed at Memphis on Saturday in a game that was much uglier than the 94-56 score indicated. Yes, I said that. Anyway, Scarb reminds everyone that UAB could still get into the tourney. Read up.

Sunday, March 09, 2008 So...here's what I've gathered so far today.

I turned on the Women's GulfSouth Tournament this morning (why, I don't know) and watched a little bit of Delta State and Arkansas Tech in the tournament championship game.

I believe that Delta State's coach will be Alabama's next women's head coach. No, Stephanie Smith hasn't been fired yet, but you have to assume that she'll be gone as soon as they line something else up. Sandra Rushing, the current coach at DII Delta State, has a record of 114-35 during her time at the school. She's currently 28-0 and has the school ranked number one in the country. She played at Alabama in the 80s, and has plenty of head coaching experience, including some time at UTEP, where, though she had an overall losing record, she had the most victories in school history. Read more about her here.


Also, since the Alabama men snuck out a win against Vanderbilt yesterday in overtime, we are now the 5 seed in the west, which puts us against Florida in the SEC Tournament on Thursday in the first round. Florida has lost 7 of their last 10 games, including the last three straight, including two at home. We're playing at 6:30pm that day, and if we come up with a win there, we would play Mississippi State in the 2nd round. State's hot, but beatable.

As ridiculous as it sounds, we've got a shot to actually win this tournament. If we can get by Mississippi State, we would get to play either Ole Miss, Georgia, or Kentucky (without Patrick Patterson) in the semifinals. Sounds like fun, right? Then we'd have to worry about probably Vandy, Arkansas, or Tennessee...all of which we've played well this season (going 2-2 against them).


Oh yeah, and monkeys might fly out of my butt.

Friday, March 07, 2008 I'm tellin ya. This guy just knows what he's talking about. He's got a good piece up about how disgusting it is to make Rashad Johnson make a "public statement" about his arrest. It was degrading to humiliate a kid like that, especially when the video proves he did nothing wrong. Read more on it here. Gotta love the Capstone Report.

Derek Dooley, a former assistant of Coach Saban, and the head coach at Louisiana Tech, will now add the role of Athletics Director to his position at the school. I'm not sure how many college head coaches are both the AD and the HC, but I can guarantee that there's not a lot of them. I find this very interesting. Read more here.

Gary Parrish has a damn good article about how ridiculous it would be if Dennis Felton were to lose his job at UGA after this season. It's a good read, and one that people should look closely at. Sometimes we forget there's more to college basketball than just winning. Not in football, but in basketball. In football, winning is the only thing that matters. Haha.

Dennis Dodd has a good story about just how good of a fit Rick Neuheisal is at UCLA. It's like a match made in heaven. Check it out.

The white death should be here later this afternoon. They're calling for 4-6 inches of snow up here. We'll see if it actually shows up or not.

Thursday, March 06, 2008


Ahhh yes. We were expecting football in the spring / summer, and what do we get?

Another league that flops.

Again, money problems. Why would you even get this thing started without giving it an actual shot to succeed? The All American Football League had a decent shot, as long as the people in charge didn't expect it to be the most incredible thing ever. Hell, even afl2 teams are successful, because they don't outlive their means. They understand what it takes to run a successful corporation. Sooo...here we go. I'm curious to see what the official announcement will be. Read more from the Florida Times-Union.


Alabama's basketball team lost again last night - at LSU. That makes us 0-8 on the road in the SEC. After Vandy smokes us, probably shooting 75% from 3 pt land, we'll be 4-4 at home which would make for our worst conference record since I can really remember. 4-12 and a #6 seed in the SEC Tournament, featuring a first round loss to Vanderbilt. Yes, we would play Vandy because they'd be at the E3 seed if I'm not mistaken. Although it could be cool if Kentucky dropped to the E3 slot and we got to play them with Hendrix this time and them missing Patterson. Could be fun to watch.

Shan Foster absolutely went berserk last night in a triple overtime 86-85 win over Mississippi State in Nashville, scoring 42 points and hitting the game winning 3 pointer with 2.7 seconds left in the game. Helluva game. Sad nobody got to watch it.

Wednesday, March 05, 2008 Seriously, this is just pathetic. I watched some basketball last night, and it was a mistake. I have no rooting interest towards Arkansas or Ole Miss, either one, but I did want to see an SEC team make a case for itself to get into the NCAA tournament. It was pretty much set in stone that Arkansas was in the tourney, but now that they've lost 3 of their last 4, with the lone win coming at home (albeit against a good Vandy squad), they haven't done much to solidify their spot. And last night, when they needed a road win in the worst kinda way, they just got outhustled by an Ole Miss team that is now 6-9 in the conference. Is a 7-9 record in conference good enough to get to the big dance? We shall see. The Rebels have a chance to get a road win at Georgia this weekend. If you can't beat them, you don't deserve to get in. Arky, you had your chances. Hell, you shoulda beaten Alabama last week. Now, you've got one more game, at home against Auburn. I would suggest winning, and then making some noise in the SEC tourney.

We had a band added to our show in Memphis on March 15th. Saving Abel, who will have their Virgin Records debut released next Tuesday, will be playing their "cd release show" with us at the New Daisy, so if you can make it out, please do. We'll play around 9pm.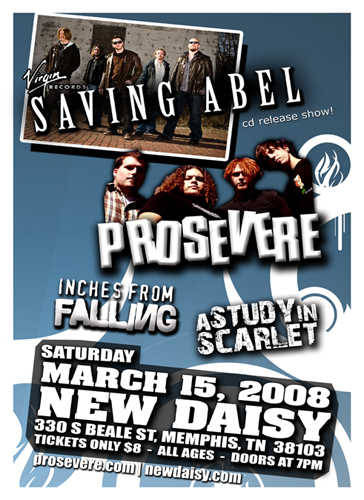 Not a whole lot goin on in the world of college sports. Brett Favre and Warren Sapp retired yesterday. Two really fun guys to watch (although Sapp had dwindled a bit in the past few years).

If there's any Tide news, we'll letcha know. :-)

Tuesday, March 04, 2008 I hate working. We went to Chuck E. Cheese's last night and my daughter absolutely went crazy. Reminded me how much I like being at home as opposed to work. Haha.

Anyway, this is what is so different about college basketball as opposed to college football. In basketball you've either got it one night or you don't. In football, if you play the same team best of seven, the better team will probably win at least 5 of them, y'know? But not so with basketball.

Take for example this past weekend, when Texas, who had a shot at being #1 in Gary Parrish's poll over at CBSSportsline.com, went to Lubbock and were beaten by Texas Tech and their new coach, Pat Knight.

Then, last night, Texas Tech goes to Lawrence, KS, and gets demolished by 58 points. Are you serious? This is the same team that just beat Texas? So that handled the trifecta - Texas beat Kansas, who beat Texas Tech, who beat Texas. Yeah.


The rumor is that Alonzo Lawrence made an 18 on his ACT this past time, which means that, as long as he passes this semester, he'll be fully qualified to play at Alabama next year. Look for this kid to be a starter right off the bat. He's that good.

Another kid that could get significant playing time early is defensive tackle Terrence Cody. Read Andrew Bone's story about him here.

And yes, A-Day last year actually did impress some people, rather than just make us look like lunatics according to ESPN and SI.com.

Monday, March 03, 2008 That's right. It's Monday, which means it's time for the Cheers and Jeers portion of the blog. I didn't see a whole lot going on this weekend, but we'll get down to it and find something worth talking about.

Cheers to Anderson Silva who took down Dan Henderson on Saturday night in UFC 82 with a choke. It was a relatively exciting fight (as they all are) which is now prompting Gregg Doyel, over at CBS Sportsline, to call for a step down in weight class and a fight between Silva and Georges St. Pierre. It'd be one helluva ratings bonanza, and a good fight too.

Jeers to the Bama basketball team for losing at Ole Miss. Yeah, I know, it was at Ole Miss, but still. One of these days you've got to come up with a road win. This season doesn't really matter, but it would've helped to get the monkey off your backs, y'know?

Cheers to the Bama basketball team for scoring 22 points in the final 2 minutes of the game on Saturday to at least make it respectable. If you can play like that in the final 2 minutes, why not try it for the whole game? I vote that you try that at LSU on Wednesday night and see where we go from there. Otherwise, we may lose that one too.

Jeers to the Tuscaloosa News for their website crashing. Ridiculous. Shouldn't happen. Period.

Cheers to the already starting Spring/Summer concert season in Memphis. At Southaven's Springfest this year we've got Collective Soul, Eric Church, and Josh Kelley (all bands that I, for some reason, enjoy) and then the Beale Street Music Festival has already announced several bands before the official announcement this Thursday, March 6th, which include Santana, Sheryl Crow, Disturbed, Seether, Saving Abel, Aretha Franklin, Fergie, the Black Crowes, the Roots, My Chemical Romance, Joan Jett, and a ton more. I'm hoping for Sevendust, but I doubt that it happens.

Jeers to the baseball team for their two losses to Texas-Arlington over the weekend. We went 2-2 in the Friso Tournament, but that's definitely not good enough. At this point in the season, we are now 3-4, which doesn't look very good, especially considering we lost two games at home to Cal-Poly to start the season. Next up - Troy.

There wasn't a whole lot to do over the weekend, but I think I covered the basics. If you've got some cheers or jeers, go ahead and put them up in the comments section.