Friday, February 29, 2008 The Bama Bloggerpalooza is happening again this year. I talked to Nico over at RollBamaRoll.com and we're going to start setting it up, so if you're a blogger and you're interested in the festivities, spot either myself or Nico or Todd an e-mail, and we'll be sure to get the ball rolling.

Aside from that, it's another normal ass Friday. I'm going to see Streetside Symphony tonight at the hi-tone, and I'm gonna start working on my tattoo sometime over the next couple of weeks. I think you guys will dig it.

We're working on playing at the Legacy on Saturday, April 12th after the game, so if you're down for that and would like to see us play, hit up Coleman (at) legacyonthestrip (dot) com. Or you can just myspace them - myspace.com/thelegacyonthestrip.


Bobby Knight is going to be a studio analyst for ESPN starting on March 12th. This has the potential to be something incredibly funny. Can you imagine Doug Gottlieb or one of those other hacks trying to disagree with Knight on live television? I mean, this has got to be one of the greatest moves ESPN has ever made. I'm enthralled with the idea. Read more here.

June Jones don't play no games. Justin Willis, the team's starting quarterback for the last two season, has been suspended for all of spring practice due to rules violations. I guess he learned real quick that this ain't coach Bennett. No offense, Phil.

LSU is disputing the reports that Perrilloux would be out for all of spring practice. I coulda sworn that's what Miles said in his press conference...but I guess he may have just said "indefinitely." For now, they don't have a date for when he'll return. Read more here.

You want something to laugh at today, go over to CBSsportsline.com and read Gregg Doyel's article about how Darren McFadden can release all the sperm he wants to, and it shouldn't matter to NFL teams. Hahahahaha. Awesome choice of words through the entire read.

Oh yeah...and just so you know, the Alan Jackson Gridiron Bash thing is true. Alan Jackson will be playing in Bryant Denny Stadium the night before the A-Day game - April 11th - and tickets will be $56 for field level, and $39 for others. I guess it'd be cool to see a show in Bryant-Denny, but I just can't stand new country music. If it was Hank Jr or something, then maybe. But not Alan Jackson.

Thursday, February 28, 2008 Ok, so let's just say that there's a kid on this team that ends up being a clutch player (i.e. Demetrius Jemison). Would you feel like this whole season was a wash because Gottfried didn't learn until too late in the year that this kid knew how to take over a game when it mattered?

The two free throws at the end of the game should be story enough. We suck at free throws, and yet, when it mattered the most, Jemison hit two. In the clutch, baby.

So yes, Alabama did beat Arkansas last night, 59-56. It's nice to see the team pull out a victory, even against a team that can't win on the road, but it's even nicer to see them beat Arkansas at home. The Hogs have always played us extremely well in T-town, so to win in a year when we obviously weren't that good just makes it that much sweeter.

Alonzo Gee was awful. Hollinger didn't play but 7 minutes. It was a very different feel this go round. Gottfried's doing anything and everything that he can to try and get on a swing to at least make the NIT. We haven't missed the postseason in something like 7 or 8 years. Don't wanna start that trend.


Freddie Roach was a witness to Rashad Johnson's arrest over the weekend, and he gave us a different story from the one the Tuscaloosa Police Department did. Read Ian's fine work here. Apparently it was just Rashad being in the wrong place at the wrong time. I could believe that.

Wednesday, February 27, 2008 I'm serious man. After having Monday off work, and watching Vandy and Tennessee last night, I'm just not exactly thrilled about having to work for 3 more days, including coming into the office on Sunday for a while.

Vandy handled Tennessee last night during the "white out" at Memorial Gymnasium. It was definitely a fun game. I was surprised that Vanderbilt was able to hang on to the lead against them after going up by 14 early, and then falling behind early in the 2nd half. Shan Foster is one helluva player. If Indiana wants a great basketball coach, they need to swoop on over to Nashville. Stallings would take that job in about 2 seconds flat.

So Tennessee's run at the top lasted about 28 hours, which is fine for Memphis fans. They liked having that #1 next to their name.


The latest rumor is that Alabama will continue the "big name - neutral site" game in 2009 by playing Texas in New Orleans. Both Texas and Bama want to become a bigger factor in recruiting in Louisiana - and what better way to do it than to play a big time national game that will have everyone buzzing - including the national media. We will kick back up the home & home series again in 2010 with Penn State, and Georgia Tech will be on the schedule in the future as well, along with a possible neutral site game with Duke.

Sean Salisbury is gone from ESPN. Read more here. I actually enjoyed listening to him, even though he was an idiot half the time.

Tuesday, February 26, 2008 Didn't get your daily fill yesterday, thanks to me having the day off work and playing outside almost all day with my daughter...but, I'm back to normal now.

We'll kick off this week with a "better late than never" cheers and jeers.


Cheers to ESPN's coverage of Saturday night's Memphis vs Tennessee basketball game. This game had the feeling of a heavyweight fight and ESPN definitely helped it out with all their promotion, etc.

Jeers to Robert Dosier, from Memphis, for not dunking the ball, and instead missing a 2-footer with under a minute left that would have given Memphis a 3 point lead.

Cheers to (hold on while I vomit) Tennessee, for once again proving that the SEC is dominant in all sports. Even when the league is down, we still have the best team in the country.

Jeers to Memphis for being out-rebounded 50-34 on Saturday night and giving up 19 offensive boards. It's a wonder they didn't get beat by 20 after a performance like that. The Vols outhustled them for every loose ball, and it really mattered at the end of the game.

Cheers to Michael Beasley for his performance last night, even in a loss. 30 points and 15 rebounds against Texas is no small feat, and he single handedly kept them in the game. The rest of his team isn't that great, but he makes Kansas State a threat every time they get on the court.

Jeers to Gottfried's basketball team. These guys are just dumb. That's all there is to it. I don't know if I blame this season more on the coaches or on the players. The kids are just stupid - and that's all there is to it. Auburn has one starter over 6'5" and we came out and shot 5 of our first 6 shots in the game from behind the arc. Just stupid. We had a chance to take control of the game with Hendrix down low, and just didn't do anything about it. Dumb.

Cheers to Coach Saban's press conference regarding the discipline of the football team. Jeremy Elder has been dismissed from the football team officially. He told us exactly what we needed to know about Rashad Johnson (he's seen video footage of the incident), and that he would not be suspended. Kevin Steele has been promoted to assistant head coach and defensive head coach. Kirby Smart has been bumped up to defensive coordinator. New names for same coaches, I guess.

I'm sure we'll have more later. :-)

Friday, February 22, 2008 I was out sick yesterday, so I apologize for the lack of an update. I'm guessing it was just a 24-hour bug, because I feel fine today. Thought I was on my deathbed yesterday though.

Anyway, again, not much going on. The biggest news of the day is the BJ Stabler will not be returning to school, so that opens another scholarship. Stabler will be graduating this year, and has played with chronic knee troubles for the past few years. He said that, after playing in pain for three seasons, he knows he's making the right decision. Read more here.

David Wasson resigned as Sports Editor of the Tuscaloosa News. I'm not sure what that's all about, but we here at MemphisTider wish him the best of luck in his future endeavors. Read the release here.

A college student from Harvard has written an article basically bringing up the idea of getting rid of collegiate athletics. He's trying to be serious, but it comes off as funny to me.

I'm sure I'll find something else to post about soon. I'm heading to see Breaking Benjamin tonight over at the DCC. Those guys have always been nice to me. Hell, they opened for one of my bands here in Memphis WAAAY back in the day. Anyway, I'll let you know how it turns out.

Wednesday, February 20, 2008 There's just not a lot going on in the wonderful world of Alabama sports. Basketball is awful. Nobody cares about softball, even though we're currently ranked #1 in the country. Recruiting's over.

So...what else is there to do?


I watched Indiana and Purdue play basketball last night. I really like Purdue's team. They remind me of Vanderbilt. I guess because of all the white guys. Indiana has a chance to go a long way in the NCAA Tournament, as long as Kelvin Sampson remains on as coach, which I would imagine he will. Friday they'll come out with a report saying that the NCAA is mistaken on several of the violations, and that they're going to keep Kelvin Sampson on as coach. At least through the end of the season, because the hearing is not until June.

Noel Devine has been accused of attacking students up at West Virginia. I suppose it's a damn good thing he didn't come to T-town. Read up on it here.

Jamychal Green, a 6'8" 225lbs Alabama signee for next year, has made it to the McDonald's All-American team this year. Now, why he's coming to play for Gottfried, I have no idea. Read up on the kid here.

The Gridiron Bash has added the University of Alabama to their website, so we know something is in the works. The big rumor is Alan Jackson is playing, but that doesn't excite me a whole lot. I guess it'll be big in the state though. Hmm. Read up on it here.

Monday, February 18, 2008 Mondays are just awful.

Anyway, my apologies for the lack of updates here lately. Methodist Healthcare has finalized the purchase of the company I work for, so it's been hectic, as I'm sure you can imagine. It appears a lot has happened since I've been away the past few days...

We'll go ahead and get right into the Cheers and Jeers from the weekend that was. :-)


Cheers to Brittany Rogers. I know, you're going "who the hell is that?" Brittany is this week's SEC softball player of the week. She's had a helluva start to the season and is currently batting over .700. This is the only sport that we've been consistently good at over the past few years (aside from gymnastics)...so if you haven't joined the bandwagon already, then hop on board.

Jeers to Jeremy Elder for being a complete and total idiot. Elder was arrested Sunday and charged with two counts of felony robbery. He pulled a gun on two students and took their money. A total of $26. Are you serious? You get a free ride to the University of Alabama. You get a free education. You get to possibly play for a national championship team in a few years, and you blow it by pulling a gun and taking money from two college students? This is beyond stupidity. So long, Jeremy. We appreciate the extra scholarship.

Cheers to Chris Douglas-Roberts' big time play-making ability at the end of the Memphis-UAB game on Saturday night. Bartow Arena is a helluva college basketball environment, and they proved to be a difficult task for the Memphis Tigers. CDR is one of the best college players in the country, and he'll help Memphis contend for a national title this year.

Jeers to the unruly fans that stormed the court after Memphis beat UAB. Throwing whiskey bottles, cups, and anything else that they could find (it's been reported they even threw cups of urine at the Tiger players), along with pushing and taunting the players as they were trying to leave the court, was completely unacceptable, and it's giving the state of Alabama an even worse name than we already had. It's a shame that this has taken away from what was an incredible game Saturday night. Mike Davis is turning the corner with that team. They'll be Memphis' only competition in the coming years.

Cheers to Ryan Perrilloux possibly breaking the last straw in his relationship with "The Hat." Perrilloux was suspended indefinitely today, and one would assume that he's finally gone for good. Bloggers and message board gurus are stating that RP has cleaned out his locker and is officially off the team. I would imagine Jarrett Lee would be the starter next year if this were to actually happen, but we shall see. Perrilloux gives LSU a shot to be better than decent next year...but without him, I would imagine they'll be no better than 8-4 or 7-5.

Jeers to Mark Gottfried's coaching against South Carolina on Saturday night. Yes, we were in the ballgame, but a 2 point lead with 20 seconds left turns into a 2 point loss. Name me any other team in the country that would give up a 4 point play with under 20 seconds left, and then isn't even smart enough to call a time-out to try and devise some kind of play to give your kids a chance to take it to overtime. Aside from that, 18 turnovers is pathetic. Especially against South Carolina. I can understand against Tennessee or Florida. But South Carolina? Lord help me. Hendrix just doesn't even know what to say anymore, so he told reporters exactly what he was thinking - "That's the way it's been going."

Cheers to Alabama possibly representing the EA Sports best-selling game, NCAA 09, this July when it hits the stores. Click here to go vote for Big Al in the Mascot Challenge.

Jeers to Brian Cook again being a complete and total moron. All Alabama fans hate this guy at the moment - just check out RollBamaRoll.com for more on that - and all he does is fuel the fire even more by writing a story suggesting that Coach Saban had Jeremy Elder's arrest planned out the entire time. This guy is a real ass-clown.

Cheers to Kelly Pavlik beating Jermaine Taylor again. Even though it wasn't a knock out, it was still a convincing victory for Pavlik. I've been a big fan of Jermaine Taylor, but I just absolutely love what Pavlik is doing for boxing. He's giving us that knock-out fighter that we've been missing since Mike Tyson went lulu on us. MMA has taken over the world, but the sweet science will be around forever.

Jeers to Willie Gary, a former St. Louis Ram who is suing the New England Patriots by claiming they cheated to win their first Super Bowl, which cost him personally a total of about $150,000, which is the price of the ring, and the difference in pay between the winning and losing teams. Totally classless, and it smells of greed. You were a professional football player and you're bitching about wanting more money? Eat me.

Thursday, February 14, 2008 Are you kidding me? It's been hell on earth the last couple of weeks at work. I'll be switching the updates to nights instead of mid-mornings for a lil while until things calm down.

Yes, I know, Bama won last night. And looked damn good in doing so. Best thing about it is that the next two, while on the road, are incredibly winnable. We could end up at 16-11 with a real possibility of closing out the season at 19-12 with wins over Arkansas, Vanderbilt, and at LSU. Get two wins in the conference tournament and we could be sitting on the bubble come tourney time.

Of course, you gotta go get the one Saturday in Columbia, and the hen house hasn't been real nice to us lately.


Anyway, I shall post more tonight.

Tuesday, February 12, 2008 Fo shiz.

Not much goin on today. Watched Texas and Kansas last night. Brad, you told me the other day that Kansas was the best team in the country? Yeah. Didn't look like it. But we shall see.

Wrote a new tune, worked on some old ones, and setup some more recording time. Many new things from the world of Prosevere are coming soon. Guaranteed.

Biggest news as of this moment is the fact that Texas A&M may be targeting Coach Kines to be their new defensive coordinator. I haven't read what happened with Reggie Herring, but I'm sure something wacky has gone on. Read more on the story here.

I'm sure I'll be posting more later. For now though...back to work. :-)

Monday, February 11, 2008 I'm gonna steal some stuff from a local radio show here in town and start out my Mondays from here on out with something called "Cheers and Jeers from the weekend that was."

Cheers to Dave Grohl and the Foo Fighters for not only a great performance at the Grammys, but also for taking their third Grammy for best Rock album; a feat that has never been done by any other band before them. Think about all the great rock acts of all time, then think about the fact that none of them have ever won the award three times. Amazing.

Cheers to the Alabama basketball players that got significant playing time for the first time this season. No, you didn't win, but in the first half you played your guts out, and that was fun to see.

Jeers to Mark Gottfried and his inability to devise a gameplan, or a backup plan (for when another All-American goes down), that could give you any kind of advantage against an SEC opponent. You had a shot to take a lead into the locker room at Kentucky, and couldn't figure out a way to get the team motivated to score or make a stop.

Jeers to Kanye West for his long ass Grammy thank you speech. He knows the show is live on television, and he knows that he's only allotted a certain amount of time to talk, so it was rude on his part to tell them to stop playing the music to signal when it's time for him to cut his speech.

Cheers to Vince Gill who, after winning best Country album (I believe), told the crowd that he just had an award given to him by a Beatle (Ringo Starr), and went on to ask Kanye if he had that happen to him yet. Good poking fun at the guy whose ego is WAAAAY too big.

Cheers to the rumor that Jimmy Buffett may be playing the day before A-Day. I'm definitely down with the Parrot-heads invading T-town, just so long as they don't make it where I can't attend. That'd make for one helluva weekend.

Cheers to Rivals naming Mark Barron an impact freshman in this year's recruiting class. He'll be a starter this season, and will be a beast for other teams to deal with.

Jeers to Kansas St coach Ron Prince who, after a mediocre 5-7 season, mortgaged everything on this year, and signed 19 junior college kids in a 26 man recruiting class. He may look like a genius after this season...but if he's not in the big 12 title picture, his job security may be in trouble.

Cheers to the idea that maybe App St can pull another shocker in the season opener this year - in Baton Rouge. :-)

Jeers to UCLA losing at a very mediocre Washington team. Is Memphis really the best team in the country this year? Seriously? I know the Pac-10 is tough, but win the games you're supposed to, and if you lose a tough one to a top 20 team, then that's fine. Don't beat Wash State on the road, then turn around and lose at Washington. That's just pathetic.

Jeers to the Alabama women's basketball team, who suffered their worst loss of the season last night - 92-47. At home. Time for a new women's coach as well, it would appear.

Friday, February 08, 2008 So tell me...what does an Elite 8 finish bring for job security?

Ask John Brady, former LSU head coach, who, not even two full seasons ago, led his team to the Final Four. His team has been dreadful this season, going 8-13, because of youth and injuries. However, that apparently didn't stop Skip Bertman from pulling the trigger and firing Brady last night.

But you know what the biggest indicator is that it's time for a change?

Lack of interest.

Seriously, even though it was signing day, how many of you even knew that Alabama was playing at Mississippi State on Wednesday night? How many of you cared? Do you know what the score was?


Well, to start off with, we lost by 7...again. We cut the lead to 2 with under 3:30...again. We missed almost half of our free throws...again. We failed to execute down the stretch...again. It's the same old thing, and we've gotten to the point now that we just don't even care. RollBamaRoll.com and myself didn't even think to post blogs about it. I mean absolutely no coverage at all. Why? Because nobody cares.

The biggest indicator will be the last three home games this season. We have Ole Miss, Arkansas, and Vanderbilt. All are conference rivals. Usually those types of games, even on Wednesday nights, are nearly sell-outs. The only sellout this season that I know of was against LSU last Saturday, and that's because it was Junior day. Even though it was a sell-out, it sure didn't look like it. I could've bought a cheap ticket and gone and sat right behind either bench with ease.

So...as much I like Mark Gottfried, and thank him for coming back to the Capstone from Murray State when he was such a hot commodity, I do believe that it is time to make a change and instill some new blood. Last year, I didn't feel that way, because I thought he would notice his downfalls and go out and hire a defensive minded assistant coach, but this year it is very obvious that something needs to be done. And this may be the only thing that CAN be done. It is looking very much like when Shula was roaming the sidelines at Bryant Denny.

"We're this close...we just need to keep working hard and good things will come."


Riiiiight.

Wednesday, February 06, 2008 Ahhh yes. I believe RollBamaRoll.com did a muuuuch better job than I did today. I got to take a physical at work, along with moving a buncha crap around the office, so that took a good portion of my day. So much so that I barely caught Julio's press conference and Jerrell's press conference.

But, excuses are just that...excuses. I should have called in sick, to be honest. :-)

Anyway, the Tuscaloosa News has put together a damn fine image that details almost all of our commitments (doesn't show the other Dareus brother, but neither does Rivals, y'know?).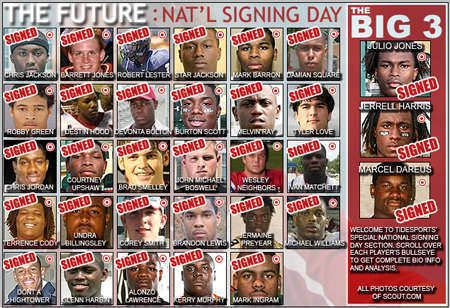 As I said before; best collection of talent in one class that I may have ever seen. It set the record for most 4 and 5 star recruits in one class for Rivals.com and Scout.com, which means it's pretty damn good.

Again, as I said before, don't worry about the numbers just yet. Coach knows what he's doing, so he'll find a way to get all of them in. I think Saban just became a fan of the "greyshirt." Regardless, it's a nice list of players to pick and choose from. Lets go through, position by position.

QUARTERBACK


Star Jackson


Brad Smelley



Quarterback is definitely an area of concern for the future. As poorly as John Parker Wilson played this season, and the fact that Greg McElroy never even saw the light of day, despite Wilson's erratic performances, shows us there's not much to look forward to there. Nick Fanuzzi, from last season's class, played well in the fall, and looked like he might contend for the backup role, but an undisclosed injury led to a medical redshirt season (not confirmed yet...still awaiting word).

This season's QB class looks to be significantly better. By the end of the year, Star Jackson had earned the ranking of #5 pro-style quarterback in the country, with almost unlimited potential. He sees the field well and thinks pass first, but he still has the ability to make plays with his feet. Brad Smelley was recruited first as an athlete, but will be given the opportunity to compete for the quarterback position after a stellar senior season in high school, which earned him the #30 pro-style ranking. Both QBs look like good pickups.

RUNNING BACKS



Mark Ingram


Ivan Matchett


Jermaine Preyear



I don't look for any of these guys to come out and take over immediately, although Ingram's shown glimpses of really being something special. He looks, to me, like he would fit in the same way that Joseph Addai did at LSU under Saban. Same size and speed, and same natural ability to hit holes...and hit them hard. Matchett has been compared to former UCLA running back Maurice Jones-Drew. Here's hoping.

WIDE RECEIVERS



Julio Jones


Destin Hood


Melvin Ray


Chris Jackson



This was already a good array of talent across the board, even without adding Julio Jones today...but it looks absolutely incredible when you toss him in there. We will need some stars to pop up at the WR position this season after losing DJ Hall, Keith Brown, and Matt Caddell to graduation. There are several WRs returning, but they're not proven. Look for Julio to come in and start immediately, opposite Nikita Stover. These other guys will DEFINITELY see playing time though. Chris Jackson has already enrolled and will be participating in spring drills to try and get a head start on everyone else. I don't think it'll get him that far though.

OFFENSIVE LINE



Tyler Love


John Michael Boswell


Barrett Jones



If I had to put my money on it, I was say that Tyler Love will come in and start immediately, a la Andre Smith in '06. Our right tackle position needs some serious help, and Love looks like he fits the bill perfectly. He's 6'7" and 285lbs, with quick feet, quick hands, and he's a beast to boot. Gotta love kids that have a mean streak.

Jones and Boswell will, in my opinion, be redshirted, because we have a plethora of offensive linemen from the Shula years. Unless, of course, those players just completely suck. But, we shall see. The more depth during the season, the better.

DEFENSIVE ENDS



Glenn Harbin


Brandon Lewis


Michael Williams


Undra Billingsley



Still seems funny to me that the player we heard the most about was Undra Billingsley, and he's our lowest ranked player at this position. Again, rankings don't mean anything, but it's still odd. Picking up Glenn Harbin last week made our class at this position. Don't get me wrong, the other kids are dynamite, but I personally think that Harbin is on another level. Give him one offseason in Saban's program and he'll be a beast. He has all the natural instincts and could fit in the "jack" position perfectly.

DEFENSIVE TACKLE



Kerry Murphy


Terrance Cody


Marcel Dareus


Damion Square



This may be our biggest need. We needed a big body up front to create havoc in the middle, and disrupt other teams' running games. Against Mississippi State, the Bulldogs were able to just own us in the middle of the defensive line, and ate away the last 6 minutes of the game by consistently pounding it down our throats.

That won't be happening again any time soon. Not with Kerry Murphy (6'5" 325lbs) and Terrance Cody (6'5" 395lbs) plugging the holes. And next year, we've already got a commitment from another big body in Foley's D.J Fluker (6'7" 325lbs). Marcel Dareus isn't a slouch either. He may only be 6'4" and 277lbs...but remember, he gets to go through the offseason program as well, so he'll only get bigger.

LINEBACKER



Jerrell Harris


Don'ta Hightower


Courtney Upshaw



This may be a small number, but damn...they're all incredibly talented. We picked up Harris the latest - today at 2pm - but he's definitely the cream of the crop. He's the fastest of the three players, and has the most raw ability. Now, from what I've seen, he's so quick that he can sometimes run himself out of plays. Hightower and Upshaw are, in my opinion, better football minds, but you just can't rule out the fact that the other guys just don't have the same ability that Harris does. Regardless, these three together, along with what we already have, is just ridiculous. These three kids alone could outplay Auburn's entire defensive class this year. Haha.

DEFENSIVE BACK



Alonzo Lawrence


Robby Green


Robert Lester


Wesley Neighbors



Ok, to start off, I don't believe Neighbors will ever see the field. Also, he won't count against our scholarships because he'll be a Bryant Scholarship player. So go ahead and remove him.

Robby Green will immediately become Kareem's backup, and Alonzo Lawrence is the new starter at corner, opposite of Jackson. Nobody has ever seen Saban as excited about a recruit's potential as they did today when he was discussing Alonzo's ability as a shutdown corner. You're looking at another Antonio Langham.

Don't be surprised if Lester redshirts this season. Yes, he is immensely talented, but I feel like we've got a lot of depth at the safety position this season. I could be wrong though.

ATHLETES



Burton Scott


Mark Barron


Devonta Bolton


Chris Jordan



Scott is a helluva pickup. He's going to play in every position you can imagine, both on offense and defense, I would imagine. He's our 3rd five-star in this class, so that should tell you something about his athletic ability.

Barron is a beast on defense, and Saban seems pretty set on him being a phenomenal safety. I think he's going to wreak havoc, and he could be starting as soon as later this season.

Bolton will play a lot at receiver. I just don't see him having the intensity, or the desire to hit, to play defense.

Jordan was told by the coaches that he will be given a shot at running back. I think the stable's already pretty full...but we'll see what he's got. He could end up in the secondary.

KICKER



Corey Smith



Don't let the ranking fool you. Rarely do kickers get any higher than this. With as well as Tiffin was kicking throughout the season, don't expect to see Smith on anything other than possibly kickoffs and punts this season. He'll be Tiffin's backup, as well as the starter in a couple of years. Corey's distance is just ridiculous, so you'll see him in on several long distance kicks. His career long in high school was 63 yards. Wow. As far as punting...well, let's just say that we couldn't get much worse than P.J. Fitzgerald. This will be a much needed improvement.

Yeah. Haha.

An embarrassment of riches.

This class is the most ridiculously awesome group of talent I've ever seen. If we had just finished yesterday with the 29 commitments we already had, I would have been fine. This would still be a top 5 class.

And yet, Saban wasn't finished. Are you kidding me? At 11am he got the Dareus brothers. At 11:30am he got Julio. At 2pm he finished crushing the Barn by getting Jerrell Harris, whose own mother was constantly seen sporting an Auburn sweatshirt.

Are you serious? This is just amazing. Most of these kids already have more talent than most of the guys that we have on the team right now.

The A-Day game is looking more and more intriguing. I, personally, will be there again, after not making it for a single one under Mikey Shula.


Ladies and Gentlemen, go ahead and mark your calendars for April 12th for the A-Day game...

...and let the countdown to the season begin. Only 206 days 'til Atlanta for the first time. I'll post more tonight. :-)

Tuesday, February 05, 2008
Mark Ingram, a 4 star running back from Flint, MI, chose Alabama over a slew of Big 10 schools around 2:35pm CST today. That puts us at 29 commitments. Several of these will be walk-ons and several will be be Bryant Scholarship athletes, and two of them are already in school, so they count against last year's class. This class will, undoubtedly, be the best in the country.

And, as I was told earlier, don't get caught up in the numbers. Get caught up in the players.

Tonight I will be posting a list of the kids who we will be waiting for an announcement from on National Signing Day (Wednesday). Coach Saban has some big names waiting in the wings...we'll see if everything comes to fruition. A lot of people seem to worry themselves with the numbers, but the bottom line is that some of these kids will either not qualify or some will be considered walk-ons (Mommy and Daddy will pay for them to play), i.e. Neighbors, Smelley, etc. Regardless, the coaching staff knows what they're doing with the numbers, and they don't have to fit until August, so don't worry about it. :-)

Auburn has stopped pursuit of a 4-star receiver, so I can't decide if he just told them to leave him alone, or if he did something to give them a reason to stop. Read up on it here.

Florida and Alabama are going to battle it out on signing day for the top spot on both Rivals.com and Scout.com. That's what I like to hear. Oh yeah, and word is out, at least in Jacksonville, that Alabama and Florida State are the final two for Julio Jones's services. Read more here.

The other day, Ian and Kevin Scarbinsky both reported that Kevin Steele was staying at Alabama rather than remaining a candidate for the South Alabama job. Apparently that news broke before he got to tell Joe Gottfried, the USA athletic director. Either way, Steele will be around for at least one more season.

Charles Rhodes, from Mississippi State, has given Richard Hendrix some "bulletin board material" by saying that Hendrix is not a tough matchup for them. Way to fuel the fire, boy.

There were reports yesterday that Jerrell Harris had one helluva trip to Tennessee last weekend, and that UT was in the running for Harris's services now, but apparently that isn't the case, because he knocked the Viles out of the running, leaving four schools - Alabama, Auburn, Clemson and Southern California - awaiting his 2pm press conference on Wednesday. Read more here.

Monday, February 04, 2008 Yay for Eli Manning. I hate the Patriots anyway, so last night was great for me.

Not much news today because, sadly, I'm stupid busy at work. I may try and post later when I get home. If there's anything big that happens, spot me an e-mail. :-)

Saturday, February 02, 2008 Alabama finally pulled out a clutch win, beating LSU 81-72 in Tuscaloosa. Once again, another victory.

Y'know, I had wondered how on earth this team sold out a game against LSU, with as poorly as these two teams had been playing. But then, today, I realized it's Junior Day for the 2009 recruiting class to come in on unofficial visits. There were, according to Ian, almost 200 juniors, and their parents, etc, who were at the game. Makes it pretty easy to sell out a game with an extra nearly 1,000 people in the building (including football coaches and their families, incoming recruits, juniors, and more).

And just so you know, here's what people were REALLY paying attention to during the game...




From the left: Burton Scott, Julio Jones, Robert Lester, Mark Barron, and under Barron is '09 commitment, DJ Fluker.

Wow. Talk about 5 big time players. And, if this doesn't tip the scale in Bama's favor as to who he's signing with on Wednesday, I don't know what does. He was at nearly every Alabama home game this football season, and has come back several other times, just by himself. Sounds good to me. With about 12 minutes left in the game, all 12,000 people at the game started chanting "JU-LI-O! JU-LI-O! JU-LI-O!" And, about 5 minutes after the chant, his crew all got up and headed out. Talk about a helluva cameo. Read Ian's account of it here.

Ok, so, not too long ago, I thought I had read everywhere that Jerrell Harris had removed Alabama from his list of schools. And yet, if you check out Rivals' prediction list, they believe he's Alabama bound. Very strange to me. Also, I had heard that TJ Bryant had become an Alabama lean over the past few days, according to Tom Luginbill. Guess that's pretty wrong.

The Barners are beginning to come to grips with the fact that they'll always be #2 in the state of Alabama. Read this blog.

Friday, February 01, 2008 Ok, so here's the deal. I've been running around with people from a new company today, so that's why I haven't gotten a chance to get online.

First off, the presser from last night with Coach Saban was entertaining, to say the least. Check out Tucaloosa News's report on it, along with Ian's firsthand account.

Aside from that, there's just not a lot going on today. Alonzo Lawrence is scheduled to announce today at 3:30 CST where he is attending college. Got word last night that he may not get in school, which is something I definitely didn't want to hear. Now, don't hold me to that, but we shall see. The kid's got a lot of work to do over the summer.