Wednesday, February 06, 2008 Ahhh yes. I believe RollBamaRoll.com did a muuuuch better job than I did today. I got to take a physical at work, along with moving a buncha crap around the office, so that took a good portion of my day. So much so that I barely caught Julio's press conference and Jerrell's press conference.

But, excuses are just that...excuses. I should have called in sick, to be honest. :-)

Anyway, the Tuscaloosa News has put together a damn fine image that details almost all of our commitments (doesn't show the other Dareus brother, but neither does Rivals, y'know?).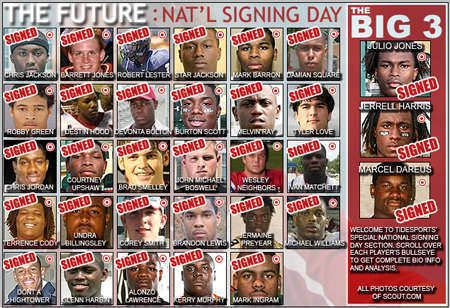 As I said before; best collection of talent in one class that I may have ever seen. It set the record for most 4 and 5 star recruits in one class for Rivals.com and Scout.com, which means it's pretty damn good.

Again, as I said before, don't worry about the numbers just yet. Coach knows what he's doing, so he'll find a way to get all of them in. I think Saban just became a fan of the "greyshirt." Regardless, it's a nice list of players to pick and choose from. Lets go through, position by position.

QUARTERBACK


Star Jackson


Brad Smelley



Quarterback is definitely an area of concern for the future. As poorly as John Parker Wilson played this season, and the fact that Greg McElroy never even saw the light of day, despite Wilson's erratic performances, shows us there's not much to look forward to there. Nick Fanuzzi, from last season's class, played well in the fall, and looked like he might contend for the backup role, but an undisclosed injury led to a medical redshirt season (not confirmed yet...still awaiting word).

This season's QB class looks to be significantly better. By the end of the year, Star Jackson had earned the ranking of #5 pro-style quarterback in the country, with almost unlimited potential. He sees the field well and thinks pass first, but he still has the ability to make plays with his feet. Brad Smelley was recruited first as an athlete, but will be given the opportunity to compete for the quarterback position after a stellar senior season in high school, which earned him the #30 pro-style ranking. Both QBs look like good pickups.

RUNNING BACKS



Mark Ingram


Ivan Matchett


Jermaine Preyear



I don't look for any of these guys to come out and take over immediately, although Ingram's shown glimpses of really being something special. He looks, to me, like he would fit in the same way that Joseph Addai did at LSU under Saban. Same size and speed, and same natural ability to hit holes...and hit them hard. Matchett has been compared to former UCLA running back Maurice Jones-Drew. Here's hoping.

WIDE RECEIVERS



Julio Jones


Destin Hood


Melvin Ray


Chris Jackson



This was already a good array of talent across the board, even without adding Julio Jones today...but it looks absolutely incredible when you toss him in there. We will need some stars to pop up at the WR position this season after losing DJ Hall, Keith Brown, and Matt Caddell to graduation. There are several WRs returning, but they're not proven. Look for Julio to come in and start immediately, opposite Nikita Stover. These other guys will DEFINITELY see playing time though. Chris Jackson has already enrolled and will be participating in spring drills to try and get a head start on everyone else. I don't think it'll get him that far though.

OFFENSIVE LINE



Tyler Love


John Michael Boswell


Barrett Jones



If I had to put my money on it, I was say that Tyler Love will come in and start immediately, a la Andre Smith in '06. Our right tackle position needs some serious help, and Love looks like he fits the bill perfectly. He's 6'7" and 285lbs, with quick feet, quick hands, and he's a beast to boot. Gotta love kids that have a mean streak.

Jones and Boswell will, in my opinion, be redshirted, because we have a plethora of offensive linemen from the Shula years. Unless, of course, those players just completely suck. But, we shall see. The more depth during the season, the better.

DEFENSIVE ENDS



Glenn Harbin


Brandon Lewis


Michael Williams


Undra Billingsley



Still seems funny to me that the player we heard the most about was Undra Billingsley, and he's our lowest ranked player at this position. Again, rankings don't mean anything, but it's still odd. Picking up Glenn Harbin last week made our class at this position. Don't get me wrong, the other kids are dynamite, but I personally think that Harbin is on another level. Give him one offseason in Saban's program and he'll be a beast. He has all the natural instincts and could fit in the "jack" position perfectly.

DEFENSIVE TACKLE



Kerry Murphy


Terrance Cody


Marcel Dareus


Damion Square



This may be our biggest need. We needed a big body up front to create havoc in the middle, and disrupt other teams' running games. Against Mississippi State, the Bulldogs were able to just own us in the middle of the defensive line, and ate away the last 6 minutes of the game by consistently pounding it down our throats.

That won't be happening again any time soon. Not with Kerry Murphy (6'5" 325lbs) and Terrance Cody (6'5" 395lbs) plugging the holes. And next year, we've already got a commitment from another big body in Foley's D.J Fluker (6'7" 325lbs). Marcel Dareus isn't a slouch either. He may only be 6'4" and 277lbs...but remember, he gets to go through the offseason program as well, so he'll only get bigger.

LINEBACKER



Jerrell Harris


Don'ta Hightower


Courtney Upshaw



This may be a small number, but damn...they're all incredibly talented. We picked up Harris the latest - today at 2pm - but he's definitely the cream of the crop. He's the fastest of the three players, and has the most raw ability. Now, from what I've seen, he's so quick that he can sometimes run himself out of plays. Hightower and Upshaw are, in my opinion, better football minds, but you just can't rule out the fact that the other guys just don't have the same ability that Harris does. Regardless, these three together, along with what we already have, is just ridiculous. These three kids alone could outplay Auburn's entire defensive class this year. Haha.

DEFENSIVE BACK



Alonzo Lawrence


Robby Green


Robert Lester


Wesley Neighbors



Ok, to start off, I don't believe Neighbors will ever see the field. Also, he won't count against our scholarships because he'll be a Bryant Scholarship player. So go ahead and remove him.

Robby Green will immediately become Kareem's backup, and Alonzo Lawrence is the new starter at corner, opposite of Jackson. Nobody has ever seen Saban as excited about a recruit's potential as they did today when he was discussing Alonzo's ability as a shutdown corner. You're looking at another Antonio Langham.

Don't be surprised if Lester redshirts this season. Yes, he is immensely talented, but I feel like we've got a lot of depth at the safety position this season. I could be wrong though.

ATHLETES



Burton Scott


Mark Barron


Devonta Bolton


Chris Jordan



Scott is a helluva pickup. He's going to play in every position you can imagine, both on offense and defense, I would imagine. He's our 3rd five-star in this class, so that should tell you something about his athletic ability.

Barron is a beast on defense, and Saban seems pretty set on him being a phenomenal safety. I think he's going to wreak havoc, and he could be starting as soon as later this season.

Bolton will play a lot at receiver. I just don't see him having the intensity, or the desire to hit, to play defense.

Jordan was told by the coaches that he will be given a shot at running back. I think the stable's already pretty full...but we'll see what he's got. He could end up in the secondary.

KICKER



Corey Smith



Don't let the ranking fool you. Rarely do kickers get any higher than this. With as well as Tiffin was kicking throughout the season, don't expect to see Smith on anything other than possibly kickoffs and punts this season. He'll be Tiffin's backup, as well as the starter in a couple of years. Corey's distance is just ridiculous, so you'll see him in on several long distance kicks. His career long in high school was 63 yards. Wow. As far as punting...well, let's just say that we couldn't get much worse than P.J. Fitzgerald. This will be a much needed improvement.

Comments: Great post very imformative
# posted by jason : 7:26 AM Good job MT!!! Bama Nation still checks on you!
# posted by Brandon : 7:58 AM

Links to this post:





<< Home