Monday, November 23, 2009


Time to get serious. It's Auburn week.


1. Les Miles is who we thought he was...

Which is an idiot. This guy is a complete joke as a football coach. It's the most ridiculous thing I have ever seen. And then, at the end of the game, in the press conference, to act like he didn't know which coach told Jefferson to spike the football - that was unbelievable. He was clearly seen on the sideline SCREAMING for him to spike the football.

What you do in that situation is come to the press conference, tell them that you thought you had a plan in place, and obviously there were communication breakdowns and that it was YOUR OWN FAULT and that it will be fixed. Give your fans some hope because right now, you look like the biggest moron on the face of the planet. Not only are you completely incompetent, but you're a damn liar too. And while some fans were calling for your head before, ALL of them are SCREAMING for you to be fired right now.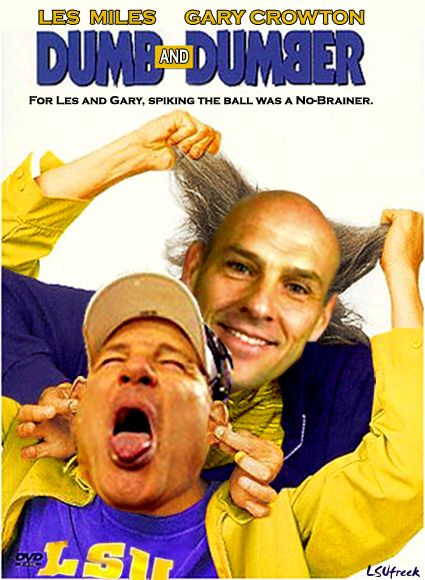 2. The Tide had a field day on Saturday

Julio had a touchdown catch. Ingram had two touchdown runs. Arenas had a punt return for a touchdown, along with an interception. Richardson and Upchurch both had one. It was just one hell of a day. And the funny part is that it was looong over by halftime. We got a lot of kids a lot of playing time, and that's good for the future. It provides even more depth. I thought Jerrell Harris played really well at linebacker for us, along with some other players that came in. I'll have to go back and watch tape later on it to see who needs work.



3. What the hell was Lane Kiffin doing?

Talk about excitement. And then to not even check on him afterwards. Gotta admit, it's kinda comical. At least they're bowl eligible. Kentucky may give these guys fits on Saturday.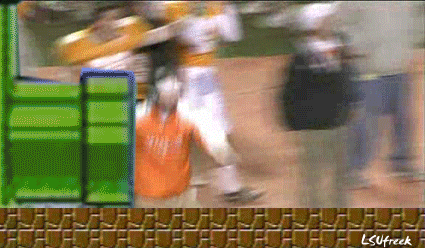 4. Arizona blew it

They had an INCREDIBLE chance for Mike Stoops to make his first Rose Bowl, and they blew it. Not necessarily any bad calls, etc. They just had the momentum at the end and didn't pull it into a win. You win that game, and you're going to the Rose Bowl because I don't think they would have had trouble with USC in the last game of the season.



5. The Ole Miss KKK rally...

Not sure if this is true or not, but the members of the KKK that were protesting at the University of Mississippi this weekend were actually spotted with Auburn caps on before the demonstration, before they put on their "hoods." I've heard there are pictures circulating. I'm going to try and run some down.



6. Georgia lost at home to Kentucky

And so the misery continues. Mark Richt is in a helluva lot of trouble. As if this season could get any worse, they lose at home to Kentucky, who is playing a 3rd string freshman quarterback. Rich Brooks is a helluva coach, but he has NOWHERE NEAR the talent that Georgia does. I mean, really, how do you take a 20-6 lead into halftime, AT HOME, and lose to KENTUCKY 34-27. They gave us 4 touchdowns in the 2nd half. Jeeeeez.



7. Arkansas is rollin

This team just gets better and better every week. I guess it's a good thing for us that we always play them early in the year because by the end of the year, Petrino will always have them playing some good football. I'm fairly confident that they'll take out LSU and find themselves at 8-4 and in a better bowl game than the Bayou Bengals.



8. It is officially AUBURN week.

I am SOOO ready for this one. We're in the same spot as last year. 11-0. Already wrapped up the SEC Western Division championship. Getting ready to play Florida, who many consider the best team in college football. Auburn is looking to spoil our party. Sound familiar?

Yeah. Just like last year.

Only difference is it's not Tuberville on their sideline this year. It's The Chiz-nik.

Just because Auburn doesn't have as good a record, and the SEC Championship against Florida is the next weekend, don't even think for one second that the Alabama players haven't been listening to the Auburn players talk trash for a few weeks leading up to this game. There is still hatred there. These guys are not friends. This is going to be a war, and the Tide will be ready for it.

Comments:

Links to this post:





<< Home